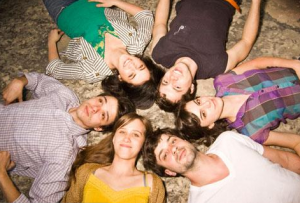 Dirty Projectors are a busy bunch. Following the release of Bitte Orca and the following worldwide tour, including some special dates playing The Getty Address with the orchestral ensemble Alarm Will Sound, they are now self-releasing a new project with none other than Björk as the exotic collaborator. Considering this Brooklyn sextet is pretty exotic as well —mastering extravagant undulations of vocals and choppy polyrhythmic combinations — what we are presented with promises to be a cinematically beautiful and breathtaking joint effort.
And effort is the kind of word that most truly defines this project. Wittenberg is the story of a little family of whales, which Amber from Dirty Projectors happened to catch sight of in April 2009 in North Californian shores, exactly the same month they were due to play with the Icelandic singer at a benefit concert in New York. Talks on proposed teamwork followed and Björk accepted to sing the part of the mom whale, while David performed Amber's section, and Angel, Haley and Amber herself acted as the whale's kids. It was unanimously decided that all the money that Wittenberg generates would go to the project of creating international marine protected areas. They wanted to feel that their effort would pay off. According to David Longstreth, 'Only 1% of the oceans are protected in any way and this is a huge problem. We're working with the National Geographic Society to create areas of sustainability, so the oceans don't end up like a giant poisonous corpse hugging the continents.' And for just $1 per song for a 7-track album, it will be far less of a disaster for your pocket as well.
Mount Wittenberg Orca is now available and downloadable only at www.mountwittenbergorca.com.
Words: Liane Escorza