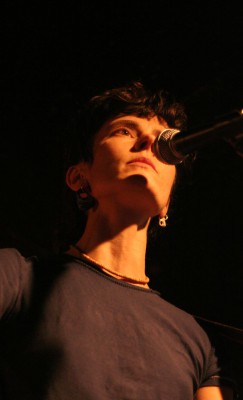 There are some names that every self-respecting folk fan should know; in my humblest of opinions, Diane Cluck is one of them.
With her distinctive, sparse guitar picking tempered by a strong, almost world-wearied voice and disconcertingly perceptive lyrics, Diane's influence has been keenly felt this side of the pond by artists such as Emmy the Great.
Yet with the utmost respect to everyone who has admirably championed the influence Diane Cluck has had on their music, let us be honest – there's nothing like the real thing!
In September, in an all too rare opportunity to see her play live, Diane returns to the UK with drummer Anders Griffen, who is likewise as well-connected as he is talented.
Already booked to play the End of the Road Festival, Diane will headline her own show with Anders and other special guests at The Tabernacle, West London on Sunday September 12th. Tickets for the 16+ show are £12 in advance from Platforms:live or TicketWeb and are on sale now.
Venturing further afield they will also play shows in an array of lovely little venues in Brighton, Cardiff and somewhere called Mold in North Wales, which is intriguing in itself. More shows are still to be announced so keep an eye on Diane Cluck's Myspace for details.
Diane Cluck and Anders Griffen:
10 Sep – Dorset – End of the Road Festival
11 Sep – Brighton – Westhill Hall
12 Sep – London – The Tabernacle
24 Sep – Mold – St Mary's Church Hall
26 Sep – Cardiff – 10 Feet Tall