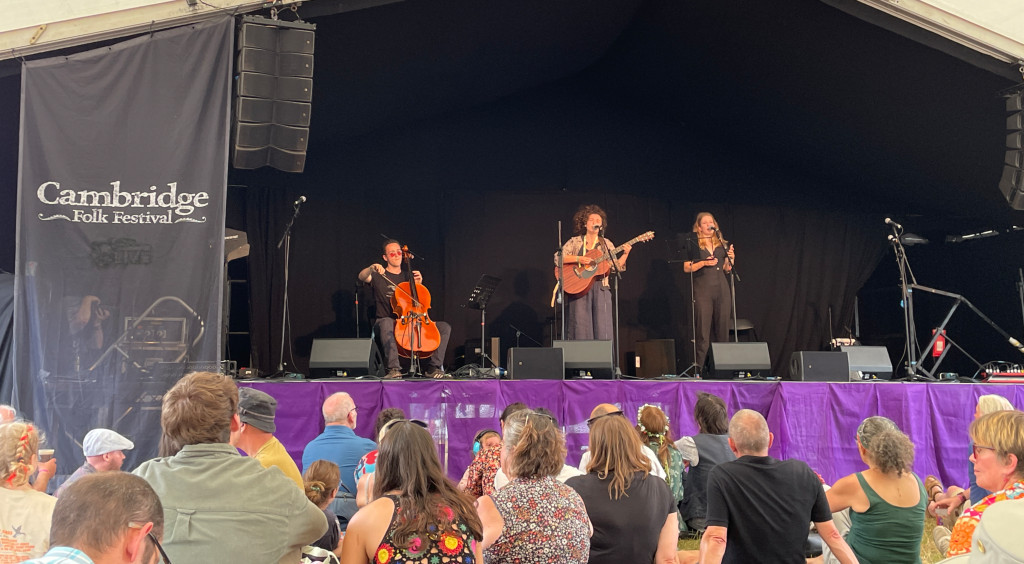 It's no secret that it's been a hard two years for the music industry. Cambridge Folk Festival organiser Rebecca Stewart acknowledges that tough context in the opening lines of the programme for this year's Festival, the first since 2019. It's against that backdrop that Team FFS enter the arena with disbelief and a rising sense of elation that yes, really, here we all are again, and here awaits a weekend filled to the brim with all our new favourite artists, waiting to be discovered, enjoyed, and talked about in the months to come.
Thursday night opened the Festival with vigour. With thousands already in attendance, audiences swelled beyond the confines of marquee walls to enjoy a standard-setting show from Samantha Crain and her band on Stage 2. Part of the indigenous Choctaw tribe in Oklahoma, she uses her musical gifts to write new folk songs for her community to sing – and one such example, 'When We Remain', is how she closed a glisteningly good set.
Over in the Club Tent it was impossible to get glimpse of Beans On Toast from midway through his pulling-no-punches, politically-drenched set. After a sweet song about the mundane beauty of spending a day with his daughter, he sought to release the audience from climate anxiety by explaining that it was BP who coined the phrase 'carbon footprint'. Urging us to look around with gratitude right in that moment, and be thankful for sunshine, music, and being together, he understood the assignment of opening night.
The star of Friday's line-up was a showcase from this year's mentees of the English Folk Expo. A programme facilitating mutual support and opportunities like playing at the Festival, the EFEx showcase first graced the Club Tent in 2019, but after a glorious two hours of fresh and diverse talent from Georgie Buchanan, Ben and Dom, Amelia Coburn and Izzie Walsh, we hope it becomes a permanent fixture. Amelia Coburn's set in particular stood out, with confident, gentle vocals and personal storytelling accompanied by stick dulcimer, ukulele and guitar, she left the audience feeling like we'd just witnessed a future star.
Continuing in the Club Tent, Conchúr White (pronounced 'Connor') played a captivatingly quiet set including 'Daisies' which, to his surprise, made it into the soundtrack for one of the final episodes of Neighbours. Set closer 'On Raglan Road' on electric guitar was stylish and assured.
Saturday's Stage 1 sets were the soundtrack to that particular bereft nostalgia caused by watching the finale of the beloved Australian soap opera that morning. It wouldn't be right to feel pure happiness while listening to folk music, would it?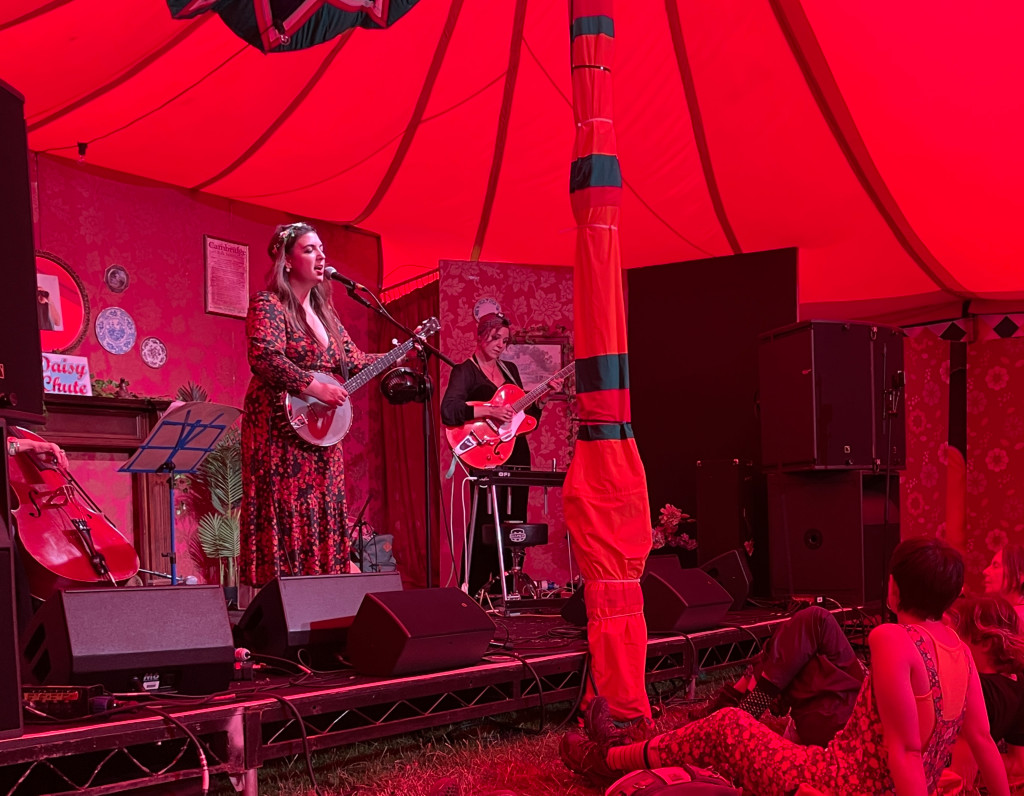 Following a packed set the previous day on Stage 2, northern trio The Young'uns gave another storming performance of their three-part harmonies to an even larger audience at Stage 1. We laughed and cried and felt all the things about being alive as we were carried along between sea-shanties to traditional folk songs to their musical takes on individual stories behind events such as the Lockerbie bombing and 2019's London Bridge terror attack. The latter inspired 'Jack Merritt's Boots', a testament to the life and impact of one of the victims, a local man who'd grown up only a couple of miles from the Festival, and whose parents were in attendance to hear the song performed for the first time.
Later in the evening, Passenger's headline slot saw the solo artist humbly declaring it felt like a big stage for one man, one guitar, and one hit single (2014's 'Let Her Go' won an Ivor Novello award and international acclaim for Mike Rosenberg, the man behind the moniker). Deftly charming the audience with effusive gratitude between performances of 'Table For One', Bryan Adams' 'Heaven' and Simon & Garfunkel's 'Sound of Silence' before, yes, playing what he called his "one hit song", resulted in the audience still singing along long after he'd left the stage.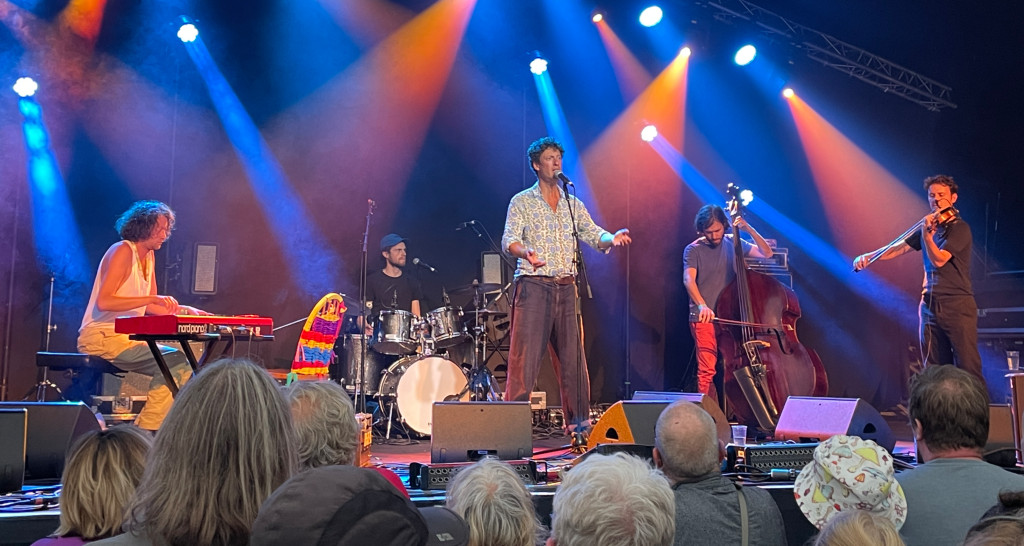 Sunday held impressive performances from Daisy Chute in the Den, whose Scottish/American heritage and beautiful vocals made for perfect Sunday listening, and in the Club Tent, Flo Perlin of Belarusian/Iraqi heritage achieved her 14-year-old-self's dream by playing on the stage she'd previously seen Johnny Flynn and Laura Marling play on.
From two emerging artists to two performers at the top of their game, Stage 2 exemplified perfect programming on this closing night. First up, Sam Lee and his band played through a captivating, fascinating set – a mini-tour through Lee's work as a song collector across the British Isles. Drawing the audience in for participation, and providing just the right context for each song's exquisite delivery, it could have doubled-up as a tutorial in how to woo an overflowing tent on the last evening of a festival. 
And for something completely different, Grammy-award-winning Christone 'Kingfish' Ingram brought electrifying Mississippi blues, playing the kind of soaring guitar solos which seep into every centimetre of your soul. Mind thoroughly blown, we just about managed to remember how to walk and did so to hear Festival returnees St Paul and the Broken Bones close out the weekend on Stage 1. It's been a strong return after two summers without the Cambridge Folk Festival. Two summers during which it was impossible to tell what the future of music festivals would be. If but if this weekend is anything to go by, the future is bright.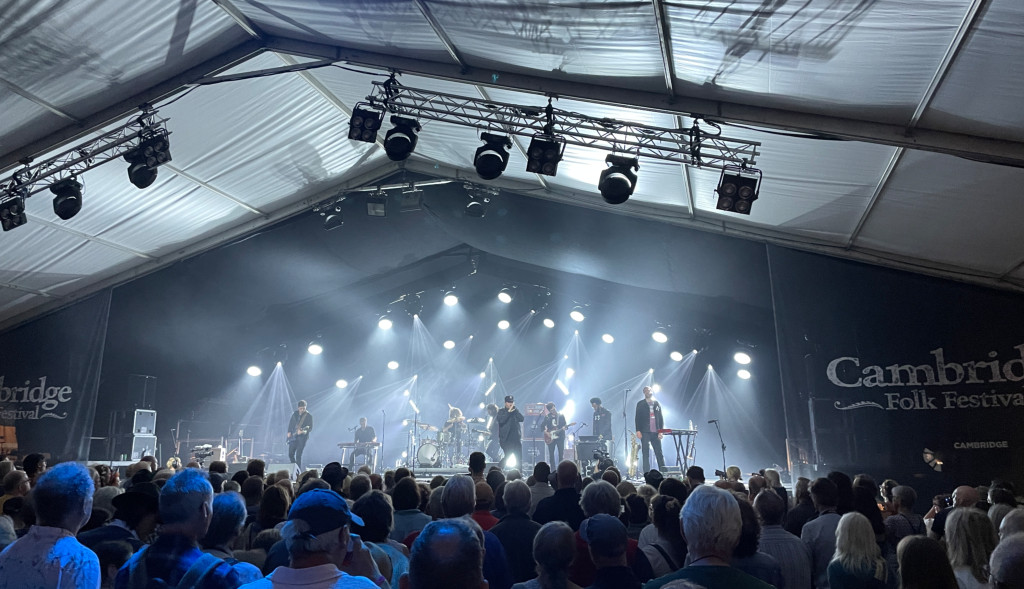 Words: Angeline Liles