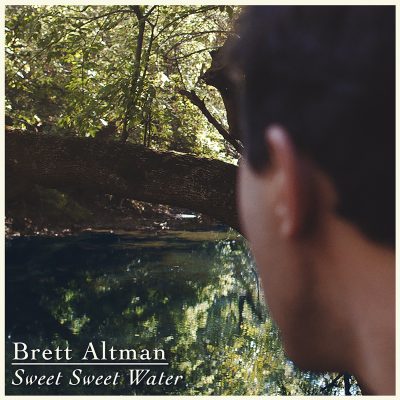 Over the past year and a half, Brett Altman has been honing in on his silky smooth folk-pop stylings. What began as wowing audiences with the tongue-in-cheek summertime love tune 'Vacancy Signs' in late 2018 has become an establishment. The New Jersey singer-songwriter has since dropped a multitude of singles, and 'Sweet Sweet Water' is his latest. A forward-driving, passionate performance from Altman and company assure that the song's message of an undulating relationship is easily communicated, and Altman's expert delivery of infectious and charming melodies makes it an easily memorable performance.
On 'Sweet Sweet Water', Altman says, "'Sweet Sweet Water' is about the push and pull that exists between a relationship with any person, place, or thing. Far too often we grow frustrated by allowing ourselves to stay in a bad situation for too long. It's only when we step away from it that we can see the bigger picture. A bigger picture that includes all our possible sources of happiness, and a reminder to turn our attention toward them when we feel unwanted or taken for granted.  Repeating this message to myself has been incredibly helpful of late."
"Ironically enough, I did in fact write 'Sweet Sweet Water' on a really hot summer night. Despite having just finished a long writing session, I chose to toy around with my guitar for a few minutes before bed. I was so in the zone during the previous session that I had not drank water in over 3 hours. I was dehydrated and frustrated with myself for such poor self care (my mother reminds me to hydrate at least twice a day!). However, as I stared at the glass of water on my night stand, I felt this strong urge to write about this specific feeling. I decided I wouldn't take a sip of water until I finished a song. Thankfully, it all largely came together within 3 hours, so after 6 total hours of songwriting I finally took a sip. It's funny the lengths songwriters will go to produce new music."
Altman also took part in our ongoing 'FFS 5' series of interviews as part of the premiere process.
Please tell us a bit about yourself. Where are you from and how did you get started in music? Any defining moments along the path to present day?
It all started for me in Livingston, New Jersey. That is where I got my first taste of performing, which included my time as a trumpet player in the elementary school orchestra. While the trumpet did not stick with me, it did teach me the practice habits needed to learn an instrument (which would later come into play when learning the guitar). At a young age I enjoyed singing too, but I was very modest and shy about it. I never imagined myself performing publicly! That all changed when my college roommates encouraged me to enter a talent competition at Penn State. Less than 18 months after first singing to a small group of friends, I performed in front of 17,000 people for that Penn State talent competition. I was so nervous that I almost did not get on stage, but succeeding in that moment gave me the confidence to pursue a passion I had long been keeping to myself.
As an artist, how do you define success?
My goal is to connect with as many people as I can through music. I write songs from real life experiences and emotions, and I want to build relationships with others who are touched by the messages of my songs. I have lofty goals for myself, but I make sure to keep track of the "little" successes in this journey. When I'm playing live and someone is singing my lyrics with me, that's a success. When a friend sends me a video of them cooking dinner and my song is playing in their kitchen, that's a success. Success to me is a life where I can sustainably afford to tour, release new music, and bring us all little closer together.
What do you find to be your greatest struggle when it comes to the music business?
The greatest struggle is figuring out where to prioritize my time. Some days I'll wake up and send 15 emails to book shows. Some days I'll spend 5 hours writing a single song. Other weeks I'll spend night after night supporting my friends in the scene by attending concerts. I do all these things, which I truly love, yet sometimes feel like nothing is happening or moving forward. It can be discouraging. However through the process of managing my own career, I have learned to be more patient and understand that all the inches gained will add up each year.
What do you think is the most realistic goal you can achieve as an artist/band? What do you hope to achieve?
Ever since seeing Kasey Musgraves perform at the Beacon Theatre in NYC in 2019, it's been my goal to play that venue. There's something so elegant about it, yet also warm and welcoming. Is that realistic for an independently managed musician like myself? That's hard to say. I do believe you can achieve any specific goal you set, but it must come with a clear action plan. I look at a band like Vulfpeck, which just sold out Madison Square Garden , and am inspired that independents can play those big stages now. As far as a more immediate realistic goal, I'd like to perform at my first series of festivals this summer. I have sent out many applications and fingered crossed on some acceptances!
Outside of music, what do you like to do that you feel contributes to the creativity that you tap into for your music?
I love to walk. That has been the way I've cleared my head and inspired new ideas throughout my life. It's hard not to feel inspired after strolling around the streets of Manhattan for a few hours. Recently, I've also begun to read poetry again, at the encouragement of a fellow songwriter. In elementary school I did not truly appreciate the poems and short stories we covered, so I'm re-reading The Raven and other classics with fresh eyes. I also find inspiration from all the great content on HBO, Netflix, etc. I was watching a show last night, and I had to pause it to jot down a song idea that sparked from the love interest between the two lead characters. My philosophy is that if you're paying close attention, there is inspiration everywhere. 
Words by: Jonathan Frahm