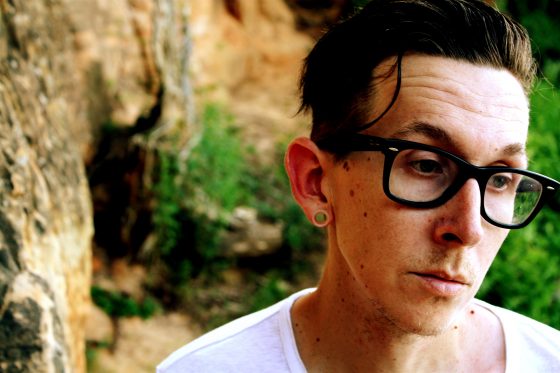 There is an immediacy to these times, times when the sense of order so long known feels under threat. It's an immediacy felt by Micah P. Hinson, who poured out his feelings when he recorded his new album When I Shoot At You With Arrows, I Will Shoot To Destroy You in the space of just 24 hours with the Musicians of the Apocalypse. Following on from the release of the first cut, 'Small Spaces' earlier this year, we can now bring you the premiere of 'The Sleep of the Damned' – a dark and foreboding warning about our collective failure to respond to the dangers that seem to be all around us.
"I have no better way to say it – 'The Sleep of The Damned' is about a society that is giving up and giving in to things they know little, to nothing, about – or moreover the outcomes of behaviours," Hinson said. "The song lyrics masquerade in this concept of being stuck in the back of a car, with Bonnie holding the wheel, brandishing a pistol – we, in the back seat, are helpless, confused, willing to give in, willing to be an accomplice, but not actively responsible, yet that really is simply stating how dangerous it is to hand over the reins to things humans have never had to consider.
"In this present time, what are we giving up? And what are we gaining? Who will win? I don't think it'll be humankind. We must keep control of our minds and souls – we must be aware of our present condition. We seem lost, we seem aloof – there is no sense of being humble… We search for joy, love, mercy, and grace in all the wrong places. The power is within us – not without us. As Bowie says, "We can be heroes, just for one day." I believe in humanity. I believe in the power of the human soul. We can transcend our condition. We can transcend life if we so choose."
When I Shoot At You With Arrows, I Will Shoot To Destroy You will be released on October 26 via Full Time Hobby.
Live dates:
Fri 30 November – Penninck Huis – Deventer, NL
Sat 01 December – HINK Festival – Den Haag, NL
Sun 02 December – Autumn Falls Festival – Brussels, BE
Tuesday 04 December – Oslo, London, UK
Photo: Ashley Bryn Gregory Hinson