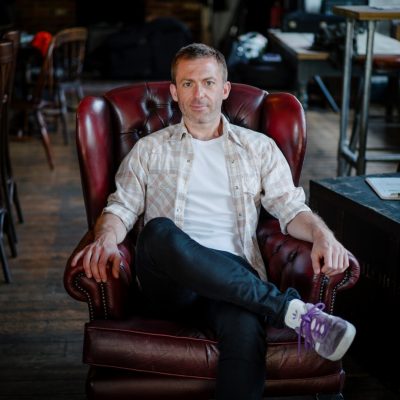 Those of you who follow the For Folk's Sake sessions will already be excited about Ben Somers' new record Poor Stuart after he popped by to perform 'Life On The Road. Now we can offer up the premiere of the entire record before its release on Friday, and Ben has written up a detailed track-by-track guide to go with it. Though he has released several records as part of different groups or as a collaborator, Poor Stuart is Somers' debut solo album so that little bit extra special to him. Hit play below and read on to find out precisely why.
1. Poor Stuart
I spent dayhanging out with a friend's cat (named Stuart) whilst he had fleas.
The combination of the aggravating collar and the fleas gave him a mix of excitement, anxiety and energy, he seemed unhappy and happy at the same time. Hopefully the tune he inspired me to write on that day might have given him a little solace.
2. Sideman
A year or so ago I stepped in on bass with a touring bluegrass band from the US. There was a somewhat difficult dynamic with the personalities in the band. One of the leaders of the group was overheard referring to us as 'sideman' in trying to placate another of the leaders who was, pretty unjustly unhappy with our input. It was confusing to see exactly how little some performers understand the level of support we can give as 'sidemen'.
3. Trouble In Mind/Fasiken (Richard M.Jones/Annlaug Børsheim)
A medley of two of my favourite songs. I seem to be drawn to songs which can be played in different genres and still carry the same weight. 'Trouble In Mind' is one of those songs which was originally written with a much 'jazzier' feel. Lyrically it very simply talks about very basic human conditions, loneliness and sadness. I and everyone else on the planet, can identify with these feelings and perhaps sharing them helps us to deal with them better.
Fasiken is by the fantastic Norwegian musician/composer Annlaug Børsheim. I heard it performed by a friend and colleague, fiddler Sam Proctor at the London Fiddle Convention a couple of years ago when I was performing with the tutors from the convention.
4. Good Boy
I started playing the saxophone at 16, my first instrument. After studying jazz at university I got myself a double bass and immersed myself in country and roots music, the music I had grown up listening to through my father. In the last few years I've really tried to find some cohesion between all of my musical tastes and bring them together to create my own sound rather than keeping all the styles separate and distinct. The first part of melody in 'Good Boy' comes from a mandolin solo I heard my dear friend Joe K.Walsh do on a video of us taken from a tour we did in The US. Currently in my working string band, two of the members are English and two are French, the end of the tune is a jovial anti-Brexit statement.
5. Back In The Saddle (Gene Autry & Ray Whitley)
Western Swing and the music of 'The Sons Of The Pioneers' has always been a big part of my musical foundation due to my dad. Trail songs and old cowboy music often features a little yodelling, a different style to Alpine yodelling. I spent a lot of time in Germany due to a past relationship and was introduced to Alpmusic which I instantly fell in love with. Hopefully what I do here is respectful to both styles.
6. Life On The Road
I've made a few tours in different places worldwide with a good friend and musician John Lowell. John, from Montana, is a great song writer and also collector of songs, many of which are about travelling and some about his days as a cowboy. During one tour with him I realised that a song is a beautiful way to take a snapshot, not just of the images, it also captures your personal feel and experience in a way a photo cannot. Life On The Road is my experience of being a travelling musician.
7. Blake's Reel
A dedication to the great musician and writer Norman Blake. I was introduced to an album by Norman called 'Natasha's Waltz'. It features his wife Nancy on cello. I think it's one the first examples of the cello being used in 'Old Time' and roots music. In recent years its become an extremely popular instrument in this genre. This particular composition was heavily influenced by the 'chamber-old time' sound of Norman's album and my bowed bass is a nod to Nancy.
8. Torontolu (Marius Pibarot)
Written en route to Toronto by Marius Pibarot (playing the fiddle on the recording). I heard Marius playing this tune whilst he was writing it and asked if he'd like to play it in the set. Marius has played with Armenian groups for a few years and has taken on some of the sensibilities found in this music. The odd time signature, ornamentation and chord sequence are heavily influenced by the folk music of Armenia.
9. A Bored Farewell
A straight up 'Country Hurting Song'. I wrote this one after a break up. Break-ups are often the result of our own decisions so can we really feel that sorry for ourselves? I had this realisation one day whilst moving out of a relatively happy and stable home I'd been living in with a girlfriend. Walking round the house saying goodbye, I had the feeling that even the inanimate fixtures, the doors and windows were all just bored of my ruminations, having seen this pathetic pattern of behaviour many times.
10. Mélodie Pour Jules
Written for a friend named Julian Thomasset. Jules was a great artist and wonderful, free human being. For a time I lived in house of jazz musicians on Green Lanes in North London. Jules would very often be asleep on our sofa when I wandered downstairs for breakfast, it was always a pleasure as hanging out and chatting with him was an experience. It was always possible to take a little liberation from one's own existential ups and downs when being with him. He, unfortunately, got cancer and left us very early. Near the end of his life another dear friend and musician Thibault Remy asked all musician friends if they'd like to send Jules a piece of music and a message as by this point, he'd lost his sight and ability to speak but was very obviously comforted by music. This was my offering.
11. Blue Shadows On The Trail (Roy Rogers)
A song that has been part of my life since I was born, a part of my Dad's repertoire and now part of mine. Dad went above and beyond the call of duty when recording this album. We recorded just outside of Paris. Dad acted as driver, chef and clown (perhaps the most important role when dealing with the emotions born from pressures of recording and being on the road). I wanted to make sure that he was featured on this record so we threw this track down live at the end of the session. Thanks Dad.
12. Melody For Jules
An alternate version from a session a couple of years ago featuring some English musicians. I still really enjoy listening to this version and it also represents a different time for me so I decided to include it on the album.