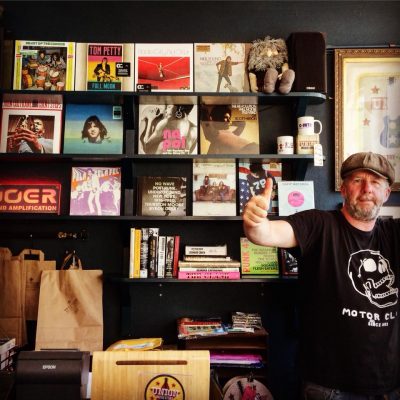 It won't take very long to realise something has fundamentally changed at Union Music Store in Lewes. Walk through the door and on the wall facing you, you'll spot London Calling by the Clash, Let It Be by the Replacements and Joy Division's Unknown Pleasures.
For eight years, Union has stood as a little corner of Nashville in East Sussex, specialists in folk, country and Americana, but now Lewes' little record shop is under new management.
Musician Danny Wilson, known to For Folk's Sake readers as the front man of Danny & The Champions of the World, and publicist Del Day, known to For Folk's Sake writers as the man behind Ark PR, have taken over from Stevie and Jamie Freeman and are putting their own stamp on the shop.
Danny and Del have been deeply ingrained in the UK's Americana scene for years, but don't want their shop to be constrained by labels. Americana, country and folk will continue to feature heavily, but there will be plenty more besides.
"I don't see genres as boundaries," said Del. "I see them as bridges. The remit is kind of quite open. It will be quite strange for some of the regulars to come in and see some Bad Brains or Fugazi in the window. It will be weird but I hope that through our enthusiasm and love for those records we can gradually link those pieces together. I hope our regulars will be as open-minded as we are."
There may be a few more rock 'n' roll and jazz records in the racks, and the vinyl may have been moved to the middle of the floor, but regulars need not worry that they won't recognise one of the most distinctive record shops in the country.
Union was opened by Jamie and Stevie Freeman in 2010, realising Stevie's dream of running a country music store like those she loved to visit in Tennessee. It quickly grew into a hub, with its own record label, regular gigs, and charitable projects to support young musicians.
The shop's influence was recognised when Stevie was invited to join the board of the Americana Music Association UK in 2012 and she soon became Chair of the organisation.
But that work has increasingly dragged Stevie away from the shop, leading to the realisation that there needed to be a change and opening the door for Danny and Del.
"It took me about 10 seconds to decide if I was interested, but I knew I couldn't do it on my own," Del said. "I spoke to Danny and it took him about 10 seconds to say, 'Of course we'll take it on'."
Del and Danny run label
Maiden Voyage Recording Company
together and plan to bring all their work under one roof, hosting regular events and remaining the focus of the music community in the area.
"The legacy of the shop is really important," Del said. "This was Jamie and Stevie's passion for seven years. The last thing I want to do is go in and get rid of any of that. We're looking to build on it and bring our own little twist.
"I see it as a spinning top. It's been spinning and it's slowed down a little bit where Stevie's interests have moved on to other things. It just needs someone to go in and give it a fresh spin."
For Danny, the shop gives Maiden Voyage the sort of home he always wanted for the label.
"When we started the label, I said to Del, 'Let's never get an office, let's get a shop with an office'," he said. "Lo and behold a few months later the opportunity came our way. Turning down the opportunity to fulfil a really serious ambition would be a tough thing to do so we both knew when Del rang me and mentioned it we were going to do it if it was at all possible. Now we need to roll our sleeves up and make it work."
The frontline of independent music retail remains a tough battleground for anyone to venture in to, even two men with decades of experience in the music industry.
"I would be lying to you if I said there wasn't an element of fear to it," said Del.
Both men have previously worked in record shops, but an awful lot has changed since Del was in the jazz department at HMV and Danny was selling reggae at the Music and Video Exchange in Notting Hill.
Broadening the shop's remit should help, and there are also plans to develop the website and expand the mail order operation to keep the till ringing.
"The reaction we've had has all been positive," Danny said. "I've got a lot of friends in labels, distribution, the media and so on, and the surprising one has been the distributors. They are at the coalface and they know better than anyone how the shops are really doing. Everyone has been really helpful and offered advice and put our minds at rest that it is actually possible to run a record shop and have a well-fed family. You can worry about these things at times."
Danny and Del opened their doors for the first time on Friday, and the shop's new direction was quickly illustrated as the first record they sold was reggae classic
Two Sevens Clash
by Culture.
They expect a steep learning curve over the first few months, not least with Danny due to be on the road for some of the time with Bennett Wilson Poole booked in for a string of festivals and a tour starting in September.
But the vision is clear and the future of Union looks to be in safe hands.
"I want the shop to be a cultural community hub where you can come in and buy some great records, tell us about a great gig you're going to or just come and have a coffee and chew the fat," Del said. "There's not going to be a 'Are you going to buy something?' vibe. I know it sounds idealistic but if you don't have a dream like that, what's the point?"
Danny is even more succinct.
"The door is open and I think we're really nice fellas," he said. "And we've got a kettle."