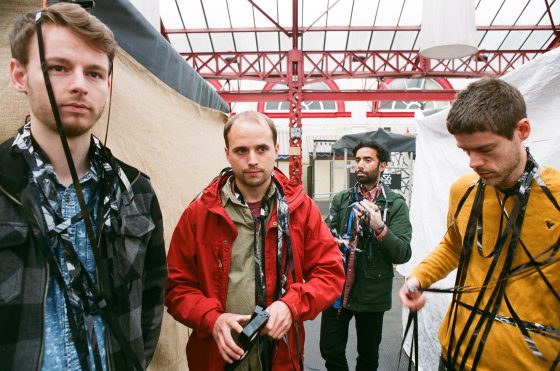 Combining elements of Americana, psychedelia and an unmistakable tinge of Manchester grit, Douga go to great lengths to get their sound just right. Which is why you might have found them crouched in a stairwell or packing themselves into a low-ceilinged basement while recording their second album Hidden Tapes And The Golden Tide. The sparkling results will be released this Friday via Do Make Merge, but you don't need to wait until then to hear them thanks to our handy – and exclusive – album stream, not to mention a cut-out-and-keep* track-by-track put together by frontman Jonny Winbolt Lewis and multi-instrumentalist Pranam Mavahalli.
*Please do not attempt to cut up the screen of your device.
Footprints
Pranam: It felt natural to start the album with this song – it's probably the one we've played live the most, and well represents the sound we had developed as a four-piece. We pieced it together in a rehearsal room from the various different sections that Johnny had written. Although many of our songs mutate when we play them live, we stick fairly rigidly to this arrangement, which hasn't really changed since we first played it as a band.
Partly
Johnny: This was one of the first tracks we started recording. We actually re-recorded it twice. Once we had the rhythm section base, the track began to take shape. That really is a platform for much of what we do. It's perhaps sweeter sounding that some of our stuff but Rob Jones distorted the groove in his mix. It's a nightmare to play live though cos of the tuning!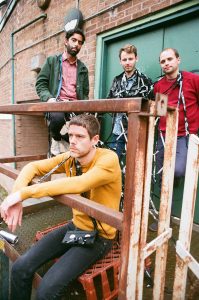 Cut The String
Johnny: This is my favourite track on the album. It feels both dense and spacious. It was a song that could have been presented as upbeat or more reflective (downtempo), as it is here. I love the counter-melodies between the guitars in the final chorus.
Exposed (Beyond)
Pranam: The first of three interlude tracks on the album. We recorded a bunch of (very long) jam sessions, to capture the sound we make when we improvise. I cut the jams into digestible chunks and remember giving a lot of thought to their titles (e.g. Happy Man Jam, Sonic Youth rip off jam, Eastern Promises). Pleased to report that none of my suggestions made the final cut.
Golden Tide
Pranam: We tend to close the set with this song as we go slightly bananas in the second half using effects pedals, loops and the like. We reigned the craziness in a little for the recording to give some space for the drum groove, which we deliberately looped. I think that, alongside John's bassline, gives it a hypnotic feel, as Johnny's vocal layers build towards the end.
Scatter
Pranam: Another interlude track, recorded live with no overdubs. Right before we hit record, Johnny said let's try something with dirty electronics – and this is the result. I like albums to have a range of moods and emotions, and I think this strange ditty brings a nice bit of darkness to the record.
Eliza's Eyes
Pranam: I've read interviews with writers where they say much of their writing consists of editing. Similarly, it was what we cut from this track that really brought it to life. I think the sparseness of the opening section contrasts quite nicely with the epic/shoegazey conclusion.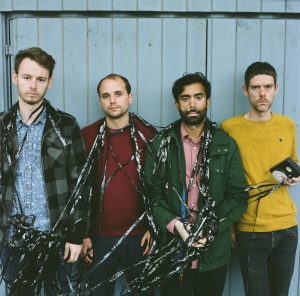 The Dove
Johnny: This was the last track we started recording. We constructed this in the studio as we hadn't rehearsed it. Andrew's drumming is really energetic compared to my more languid style. It's a pretty dynamic track and was really good fun to record.
The Alamo
Johnny: This was quite hard to record cos it's so guitar heavy. We wanted the end to be a bit Ennio Morricone and sounds like Grails. The live version spirals into noise and atmospherics. We never play it the same twice. We felt a quieter ending would work better for the record.
Passing Fires
Johnny: We were originally going to call the segue, instrumental pieces Hidden Tapes. We decided against that. This was a snippet from a jam where we found a serene soundscape.
Find The Love
Pranam: To me, great closing tracks on albums always have a slightly different feel to the rest of the songs on a record (cf anything by Bjork). I've been into this song since I first heard the demo that Johnny and John had recorded prior to me joining the band. John's bass groove and atmospherics really bring it to life. I think it points ahead to the band that we are now and are perhaps growing into.