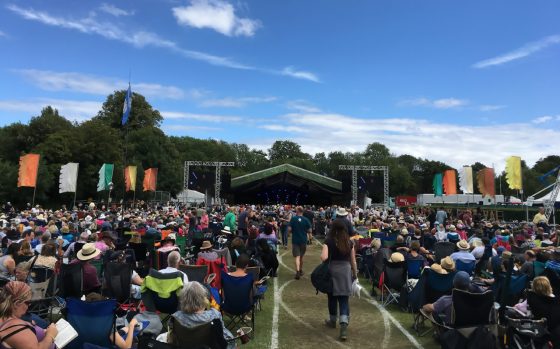 Friday
"This is a love song I wrote, and it's called 'The Worst'." Mid-way through her Stage 1 Friday afternoon set, Tennessean country blues musician Amythyst Kiah gave words to folk music's USP, and proceeded to sing a cheerful sounding song with devastating lyrics accompanied by an upbeat mandolin. Her set closed with a crowd singalong to the Carter Family's classic 'Can the circle be unbroken'.
Over in The Den young singer songwriter Kizzi Crawford sang in Welsh and English with striking bluesy vocals. Young Waters, a four piece from Bristol, brought a fun mix of contemporary and traditional folk to The Den, including songs about murder and mental health.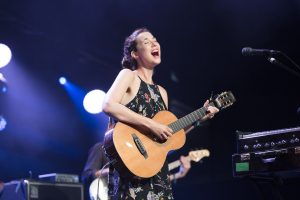 A surprisingly early slot on Stage 1 saw Lisa Hannigan's balletic performance of songs from all three of her albums, with a significant outing for 2016's At Swim. Enchanting vocals sailed through 'An ocean and a rock away', 'Passenger' and 'Lille', the latter a lullaby showing off Hannigan's vocals at their best. A Festival highlight happened when Hannigan was joined by two other vocalists around the microphone, performing a cappella version of the Seamus Heaney poem 'Anahorish'. Hannigan's career-long preoccupation in dealing with themes of loss and transience was embodied in a cathartic performance of the elegiac 'We, the drowned' from her latest album.
Saturday

The Orchestra of Syrian Musicians held the rapt attention of their Stage 1 audience with a vibrant and varied set of Arabic music, and added a touch of class to the proceedings as the only act of the weekend to don bowties and dinner jackets. In The Den, Kerry Devine's delicate and vulnerable lyricism was often accompanied by a toe-tapping beat and an irritatingly self-conscious style of audience patter. Her ode to home county Cambridgeshire 'Home Fen' is undeniably lovely. A set from Joe Bayliss reminds me what's so special about this Festival – a couple of hours under the canvas of The Den stage guarantees the discovery of an unexpected gem, and Bayliss is one such memorable find. Exploring themes spiritual, material, political and romantic, he does the unlikely by bringing a fresh voice and approach to the well-trodden ground of the guitar playing male singer songwriter. "I'm a lazy songwriter and had loads of half songs. So I decided to just make the half songs full songs." He's the perfect fit for a place like The Den, talking comfortably with a captivated audience which increased in size as his set went on.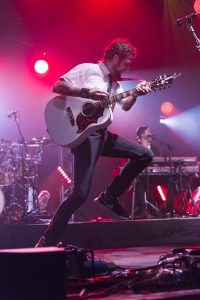 If you were a festival organiser, what would you do when faced with the challenge of replacing the previously scheduled Olivia Newton-John? You'd book Frank Turner and The Sleeping Souls, obviously. Entering Stage 1 to the Jurassic Park theme tune, it's only seconds before Turner is leaping around like an impossible punk gazelle in a way that can only be described as mesmerising. The band blaze confidently and with tight professionalism through a set which includes songs old, such as 'The Road', 'Substitute', and 'Wessex Boy', and new, like the song he co-wrote with friend and fellow Festival act Chris T-T about being kind in a world that seems to have lost its mind. The whole set is classic, unadulterated Frank Turner. That is, right up until he introduces an unlikely ode to Olivia Newton-John, leading the audience in a riotous cover of 'You're the one that I want' from Grease: the Musical, filmed as a get well video message for her. Swiftly following this, he choreographs several conga lines amongst the audience, declaring "I want to see conga chaos. This is the best thing I've ever seen from a stage in my life." I bet he says that to all the audiences. We somehow find our way out of the palm of his hand and leave, feeling 17 and euphoric.
Sunday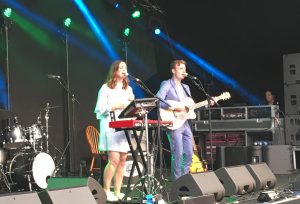 Sunday is all about Stage 2. Lewis & Leigh, a duo from north Wales and Mississippi respectively, evoke more than a little of The Civil Wars but happily lack that ex-duo's awkward sexual tension. Stock of Lewis & Leigh's album Ghost sold out from the CD tent immediately after a beguiling set which explored childhood, hometown and community, and included a breezy cover of The Smiths' 'There is a light that never goes out'. Later that afternoon, Jake Isaac and his band take to the stage with a devastatingly convincing set, opening with 'Lonely are the brave', holding up a few ballads, and involving a delighted audience in singing along with 'I Got You' and 'Home'. It's hard to write much more because all my notes say is 'so much funnnnn!!' so I guess you'll have to take my word for it, or experience his bluesy soul folk for yourself by catching one of his shows in September. I guarantee you won't regret it.
Closing The Den stage for 2017's Festival is Sheffield's The Buffalo Skinners, who several years ago could regularly be spotted busking around Cambridge city centre. Swapping instruments and vocalists, they play an energetic, winsome set exploring the full breadth of their '60's rock, folk and blues influenced style. They seem to be having so much fun themselves that the audience can't help but do the same. In a perfect turn of events, they close my experience of this year's Festival by stepping down from the stage to play an acoustic cover of Simon & Garfunkel's 'Keep the customer satisfied' amongst the audience, after the amplified sound curfew. In doing so they expressed in this moment the spirit and substance of the whole weekend, and of the Festival's long, glorious heritage of championing the talented. Long may that continue.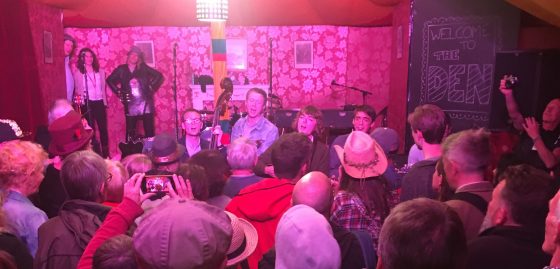 Words: Angeline Liles
Photos: Jordan Harris, Angeline Liles