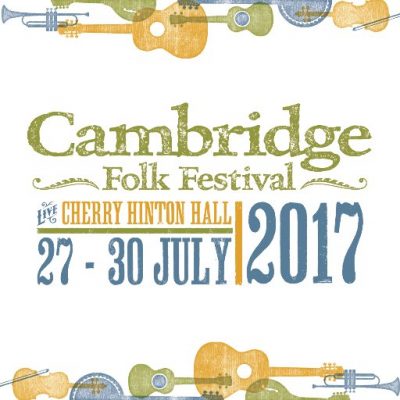 The annual Cambridge Folk Festival, now 53 years old, is Europe's premier folk festival. A celebration of talent from all over the world, it's a festival committed to giving stage time to up and comers as well as showcasing some of the world's most established folk acts.
Thursday 27
Among the first to take to the stage in the transformed grounds of Cherry Hinton Hall is all-female bluegrass band Midnight Skyracer bringing a blend of traditional and modern folk classics. They'll be sharing the Club Tent with Mumbai-born Nikhil D'Souza, while over on Stage 2 the night will close with the acoustic-driven songs of Benjamin Francis Leftwich.

Friday 28
The first full day of the Festival, with all stages in action, is set to show off the varied line up in all its glory. From sister-act Ward Thomas' British twist on country music, to Scotland's Tannara, Liverpool's Rob Vincent and Festival favourites The Rheingans Sisters, Friday will also host the raucous folk-pop of Indigo Girls, the award-winning Cara Dillon and the southern-gothic sound of Tennessee's Amythyst Kiah. Stage 1 will be graced by the astonishing talent of Lisa Hannigan, serial collaborator and solo musician in her own right.
Saturday 29
Friend of the Festival Jon Boden is, in a new venture, Guest Curator for this year's Festival. This has seen him handpick five acts to play across the four stages during the weekend, including Belshazzar's Feast and Lau. He'll be introducing each act, as well as performing his own set with his band The Remnant Kings, offering a preview of material from Boden's forthcoming album due for release in the autumn. Canadian troubadour Michael Bernard Fitzgerald will play the Club Tent, while the Isle of Skye's four-piece, Niteworks, will bring their techno-dance-folk to Stage 2. Over on Stage 1 we'll see black roots musician Fantastic Negrito, followed by The Orchestra of Syrian Musicians. Punk-folk musician Frank Turner and The Sleeping Souls are sure to rouse the crowds before the evening draws to an end.
Sunday 30
The final day of the Festival will continue to be a championing of folk talent old and new. Team FFS are particularly excited to hear Sottish band Admiral Fallow and harmony-driven duo Lewis & Leigh, both on Stage 2. Two more of Jon Boden's selected artists will play today, seeing Christ T-T's final performance of his musical renderings of A. A. Milne's poetry from the When We Were Very Young and When We Were Six collections, as well as singer and fiddle player Kate In The Kettle. Headlining on Stage 1, Jake Bugg first played at the Festival's Den tent in 2012, but just five years later will be sharing the same stage as the iconic Loudon Wainwright III on this final evening of the Festival. With music names big and small, local and global, it's set to be a weekend brimming with creativity and community, and Team FFS are excited to be a part of it.