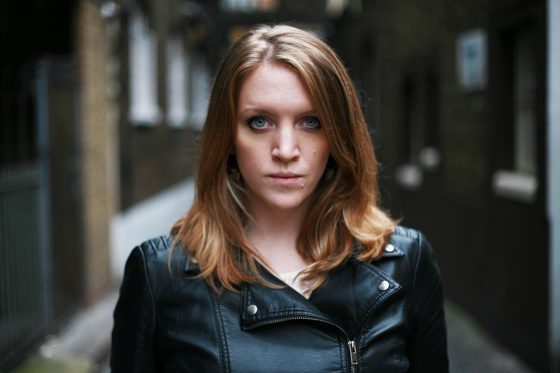 We're pleased to present the new single 'Harmonise' by Emma Ballantine.
'Harmonise' is the second of four songs that will make up an EP called Somebody's Stories, which is due in April. For Somebody's Stories Emma is writing songs around stories contributed by others. This song, based on "Brian's story", tells of the power of music to connect strangers, a random encounter at a bar on the outskirts of Chicago and the lasting impression it left. You can read the story in full below.
'Harmonise' is out this Friday (27th Jan) on digital platforms. You can find Emma on Facebook, Twitter and Spotify.
Tour dates:
21st February – The Musician, Leicester
24th February – Independent Music Day, London
1st March – The Cheese & Grain, Frome
3rd March – Caffe Nero Salisbury (afternoon gig at 3pm)
4th March – Little Rabbit Barn, Chelmsford
5th March – The Lamb, Surbiton
8th March – Kitchen Garden Cafe, Birmingham
9th March – The Stables, Milton Keynes
24th March – Spilsby Theatre, Lincolnshire
26th March – Caffe Nero Heathrow (morning gig at 11am)
9th April – The Green Note, Camden (Official EP launch)
---
Brian's story – told by Dom

While I was working in America I thought it would be worth a look around for local open mic nights or jam sessions to both stave off boredom and maintain some element of practice away from home. I came across an event being run weekly at the Flamingo Lounge, a dive bar about 15 miles out of the city. A group known as the Troubadour Retrievers run what they call an all-request jam, where they play as a live jukebox taking song requests and anyone can jump up and play along or request a song to perform with the band if they so wish.

It was exactly what I was looking for. The band were all professional quality musicians but it soon became apparent that the majority of those joining them on stage were also highly skilled, and despite being a quiet foreigner who came out of nowhere I was welcomed with open arms.

It became clear several weeks in that there were a core group of regulars who were always there, and had been supporting the event for some time. Brian was one of these regulars – he normally sat fairly near the front on one of the tables in front of the stage so I didn't get the chance to talk to him the first few times I went. As friendly as everyone seemed he looked like a cross between Lemmy Kilmister and a Vietnam veteran and some of the road signs around the town had bullet holes in them, so I erred on the side of caution. He didn't hear him play anything for a number of weeks, but when he did bring a guitar with him one week it transpired he was a competent guitarist and keyboard player, but a compelling singer. It was a gravelly but smooth voice, and for want of a better word genuine.

After congratulating him afterwards we sat and talked for a bit. It turned out that he'd only recently started coming back to the jam night after a period of ill health. We ended the evening agreeing to play 'Dear Mr. Fantasy' by Traffic the following week, which ended up being one of my more memorable performances in terms of sheer enjoyment. He played it several times during following jam sessions and I've still not heard a version I prefer more than his.

As months went by the jam weeks continued, but Brian started missing a few. His absence was noted, and when he eventually returned he looked somewhat run down. It transpired that the 'ill health' that had previously kept him away from the jam night was the result of complications from cancer, which had returned aggressively after a very short remission. Within a month or so Brian was hospitalised. I (along with several jam night regulars) visited him in hospital as often as we could if he was well enough for guests, but unfortunately he deteriorated and eventually passed away less than a year since I'd first met him.

Although Brian's story is (sadly) not uncommon in and of itself, he had a profound effect on me – nobody else had gone from being a complete stranger to a friend and then a memory in such a short space of time, and although he was a flawed man who had been dealt a tough hand it felt as if the world lost one of the 'good guys' when he died. When i pick up a guitar he often sits in the back of my mind as a reminder of how quickly everything can change, but also how long someone can last even after they're gone.
Photo: CK Goldiing