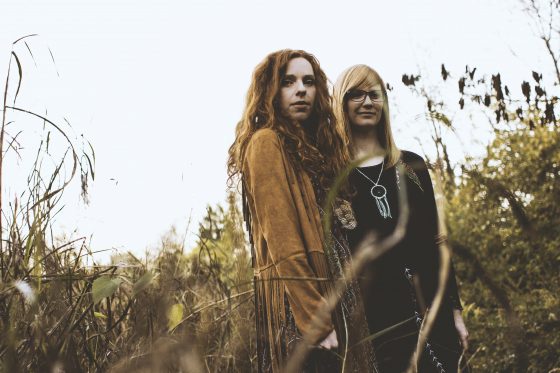 When Zoe Nicol and Rosie Jones jetted off to Nashville in September 2015 having only written half the album they intended to record when they got there, you might – as Rosie put it – have thought them "a bit crazy". But these Worry Dolls were not, well, worried. They knew exactly what they were doing as they headed for the Music City. They were going to their spiritual home.
"Nashville was always a dream for me," said Rosie, who was just 17 when she wrote a song entitled 'Tennessee' about wanting to live in Nashville and have her heart broken just so she could write songs like the ones she loved the most. "I great up listening to the Dixie Chicks and bands like that. They were always singing about Nashville and it made me want to go there myself."
In Zoe, who Rosie met while studying music in Liverpool, she had a bandmate with the same dreams. "I always wanted to go to America," Zoe said. "I never really realised it would be possible. That's what's been so great about us since we came together – we have the same ambitions."
Those ambitions are about to be realised with this week's release of their debut album, Go Get Gone, but the journey has been about more than collecting air miles between London and Nashville.
The pair made their first pilgrimage to Tennessee's capital in 2015, spending 10 days traipsing up and down Lower Broadway, soaking in the sights and the sounds, and feeding off the creative energy. "We wrote so many songs, we felt so inspired," Zoe said. "We felt a need to go back."
It was a need strong enough to persuade the pair to ditch their jobs in London and go for as long as they could – which the US visa system dictates is 90 days – and record an album. "We'd written about six or seven songs when we left, some of which didn't even make it on to the album," Rosie said. "That's what was so exciting – but we didn't doubt we would get it finished. By pushing ourselves, that's what inspired the creative process."
"The whole album is a reflection of what we went through as a musical journey," Zoe added. "To go through the process, to decide we could do this full-time, quit our jobs in London and go to Nashville for as long as we could – that was a massive part of the inspiration for the album."
The time for recording would come, but the first job when Worry Dolls landed in Nashville was writing. They didn't waste any time. "We spent the first month co-writing all day," Zoe said. "It's just a normal thing to do in Nashville, to go to a writer's room. We scheduled in two co-writes a day."
"It's not because we can't write songs alone, but it's an amazing way to meet people," Rosie added. "Instead of going for a coffee you write a song together. You feel like you know them immediately and so much better than you otherwise would. You go into a room and two hours later you've created something. You're forever linked to them."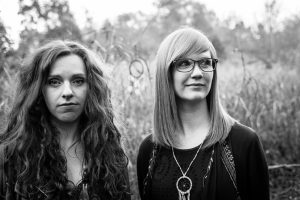 "What we loved most is it challenged us as songwriters," said Zoe. "It takes you out of your comfort zone. You can get very stuck in your own way of writing. What we've loved about working with each other is being challenged, and then to take this out to new writers who work in different ways again. In Nashville they write to a title. We've always written to a melody. They have a whole new idea of writing to us so it definitely helps you as a songwriter." The fruits of those sessions can be heard on the album, which features co-writes with Jeff Cohen (Teitur), Ben Glover (Gretchen Peters), Joe Doyle (Reba Mcentire) and more, but they came back with enough material for a box set – writing more than 30 songs during the trip.
A duo made up of Rosie's guitar and Zoe's banjo were never going to have too much trouble fitting in at the home of country music, but it wasn't the notion of a Nashville Sound or anything like that drew Worry Dolls to Tennessee. "For us, and what music means to us, songwriting is the thing," Rosie said. "Nashville, what it does is it draws great songwriters. And that's what drew us there."
"We tried really hard to protect our sound," Zoe said. "We worked with a producer (Neilson Hubbard) who would do that. He didn't over-complicate it. We didn't want to come back with an album that sounded like a Nashville band chucked on top of us. Some people that go there come back with a great production but something that isn't really true to them. It can be great but it's not something you can recreate live. We wanted to have an album that we can take on tour and recreate and that stands alone. We are two voices, a guitar and a banjo, and that was always the main focus." The results are clear on Go Get Gone – an album with flourishes of Americana but a beating heart of English folk.
Just as the songs had come in a flood, so the recording process came together in a hurry. "We booked the studio for 14 days, but it only took us nine days to record everything," said Zoe. "We did our parts in four days. The producer just made us feel so at home, we were so comfortable in that environment."
It didn't hurt that, being in Nashville, they could call on brilliant local musicians to come and lend a hand, and to get the job done in double-quick time. "The Nashville musicians worked at such a pace," Rosie said. "We booked a pedal-steel player for two days. He did everything before lunch on the first day."
It wasn't just the session musicians who were working to a compact schedule. "Some of the songs were so new, we were playing them to the producer but we didn't really know them ourselves," Rosie added. "We had to go away and learn them. We went out to Pigeon Forge for the weekend with a friend who had a cabin out there. We went to Dollywood and everything, but we also spent time just sitting on the balcony, practicing the songs while looking out over the Smoky Mountains."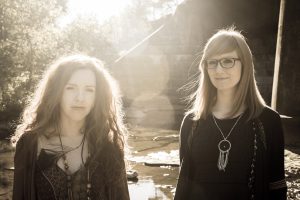 'Endless Road' was written on a Saturday, practiced on Sunday and recorded on the Monday. It may have come together in a rush, but nothing about Go Get Gone feels rushed. Instead, there is an emotional intensity to the music that comes from how fresh the material was. "When you're singing songs for the first time, you put more passion into them," Rosie said. "You still feel the emotions you were writing about. You're still going through them."
It wasn't just the new songs either. 'Someday Soon' was written during their first trip to town – a song about not wanting to go home because they still had so much more they wanted to do. A year later in the recording studio, it had both of them in tears during the recording because they still meant every word. "It both got to us when we recorded it," Zoe said. "It kind of sums up the whole experience we had in Nashville and what it meant to us."