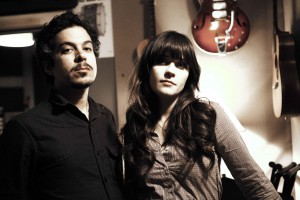 The lineup for Matt Groening's ATP keeps looking better and better. For a while FFS thought we were going to be able to go, then we looked down at our rubbish skin and bones and stuff and realised we are *not* made of money and instead will be spending the weekend of the 7th-9th May having a good old pine instead.
If you are one of those money-rich type of humans, there are still one or two places left for the Somerset festival, and if you get your skates on you'll be able to see people like She & Him (pictured), Joanna Newsom, CocoRosie, Daniel Johnston, Anni Rossi and Hello Saferide* in between having a nice swim and eating a pancake and stuff. Click here for tickets.
For the rest of us, though, all is not lost. Tons of the artists are playing other UK shows while they're  here for the yellow one's festival.
She & Him are playing Koko in London on 7th May. CocoRosie are playing London on 4th May, Bristol on 6th, Manchester on 7th and Leeds on 10th. Joanna Newsom is playing two shows at the Royal Festival Hall on 11th and 12th May. Anni Rossi is playing London shows on the 5th 6th and 9th March. Daniel Johnston will be playing a special show in London with a 11-piece orchestra on 2nd April. Tickets will be available from Platforms Live from 22nd February.
That's plenty to keep us going.
Words: Lynn Roberts
*Writing this line-up almost made FFS weep.