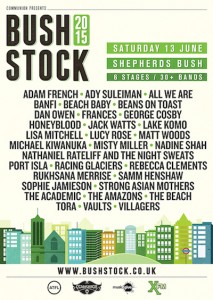 The complete and final line up for this year's Bushstock Festival has been announced. Featured are a handful of already well-established artists, such as Michael Kiwanuka, Lucy Rose, Honeyblood and All We Are, alongside a number of up-and-coming names names.
The most recent line up announcement from the festival added Villagers, Banfi, The Beach, and The Night Sweats – amongst others – to the already strong showcase.
Alongside well-known artists, Bushstock Festival also aims to showcase new and upcoming talent. In the past it has featured the likes of Mumford and Sons and Ben Howard while they were still relatively unknown, so any artist playing there is worth keeping an eye on in the future.
This year's Bushstock Festival will take place on June 13th, on 6 stages across Shepherd's Bush. The festival is ever-growing, with more stages than ever before, including an outdoor stage. For the full line up and more information about the festival, visit the Bushstock website.
You can also read our review of last year's Bushstock Festival, here, to get a feel for the festival's acts and atmosphere.