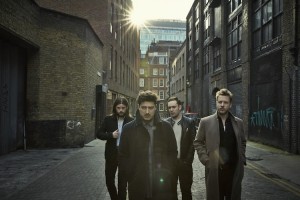 Mumford & Sons' third studio album, Wilder Mind, will be released on the 4th of May, 2015. It will be preceded by a single on April 27th, which is called Believe.
Their new album is said to be somewhat of a departure from their 2009 debut Sigh No More, and 2012 release, Babel. Mumford & Sons' staple sound to date has included foot-stomping bass drum beats and catchy blue grass banjo riffs as predominant features. Their upcoming release, however, includes no banjo, no kick drum, and in fact no acoustic instruments altogether.
Frontman Marcus Mumford has made a point of describing the band's new direction as "a development, not a departure" from their well-established sound.
The four piece folk outfit have have already released an official video for Believe – watch below.
Mumford & Sons will be headlining at this year's Leeds and Reading Festival, as well as playing a number of Gentlemen of the Road Stopovers, with one UK date:
5th & 6th June – Seaside Heights, New Jersey, USA
19th & 20th June – Waverly Iowa, USA
31st July & 1st August – Aviemore, Scotland, UK
14th & 15th August – Walla Walla, Washington, USA
21st & 22nd August – Salida, Colorado, USA
You can preorder Wilder Mind, and purchase tickets to see Mumford & Sons from their website.