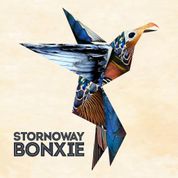 Stornoway have released details of their forthcoming album, Bonxie, which takes it's title from a nickname for the Great Skua – a large and rather unusual seabird.
It is due to be released on April 13th through label Cooking Vinyl.
Much of the album's essence is said to reflect the band's love for birds and nature, and it appears to carry on the seaside/nautical themes established in their 2010 debut, Beachcomber's Windowsill.
The name of the album and artwork had been previously unreleased, as had the track listing, which is as follows:
Between The Saltmarsh and the Sea
Get Low
Man on Wire
The Road You Didn't Take
Lost Youth
Sing With Our Senses
When We Were Giants
When You're Feeling Gentle
Heart of the Great Alone
Josephine
Love Song of the Beta Male
The first single from the upcoming record, The Road You Didn't Take, was released on February 16th, and now the band have unveiled a video to accompany the song.
Keep an eye out for the second single, which will be released along with the album on April 13th – a track called 'Get Low'.