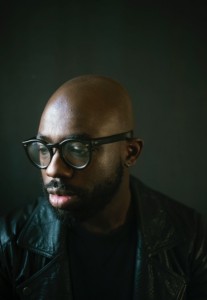 Ghostpoet has announced news of his forthcoming album Shedding Skin which will be released on 2nd March 2015 through Play It Again Sam.
The first fruits of the album, the track 'Off Peak Dreams' has already been premiered on Zane Lowe's Radio One show and sees Ghostpoet (London-based Obaro Ejimiwe) moving on from the cathartic musings of 2013's 'Some Say I So I Say Light' album.
'Shedding Skin' is a collection of ten songs that embrace, unite and narrate observations that are designed to sit beside each other through bright peaks and dark shallows.
Unlike his previous albums, 'Shedding Skin' was recorded with a traditional live set up with what has become his touring band; Joe Newman on guitar, bass player, John Calvert and John Blease on drums. The self-produced album also features guest vocals from Nadine Shah, Etta Bond, Melanie De Biasio, Lucy Rose and Maxïmo Park's Paul Smith, an album that sets a new precedent as his very best work yet.
Ghostpoet will make a handful of live appearances this month including two sold out headline shows and an appearance at the now sold out [PIAS NITES] event in London.
[soundcloud url="https://api.soundcloud.com/tracks/184895628″ params="auto_play=false&hide_related=false&show_comments=true&show_user=true&show_reposts=false&visual=true" width="100%" height="450″ iframe="true" /]
Shedding Skin track listing:
Off Peak Dreams
X Marks The Spot
Be Right Back, Moving House
Shedding Skin
Yes, I Helped You Pack
That Ring Down The Drain Kind Of Feeling
Sorry My Love, It's You Not Me
Better Not Butter
The Pleasure In Pleather
Nothing In The Way