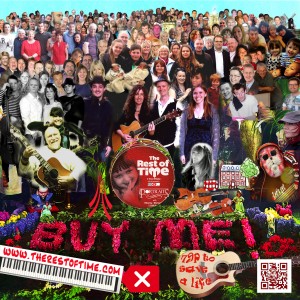 I first stumbled across The Portraits at the Small World solar tent at Glastonbury 2013 – admittedly I was hiding from the rain but half an hour (and a lot of personal peddling and bubble blowing) later and I was hooked on their unique and thrilling live sound. This year, they've been using their incredible musical ability to raise awareness of a very special cause.
The band – created by husband and wife Jeremy & Lorraine Millington – have recorded real peoples' voices across the country throughout 2014 for a single they are releasing in an attempt to save lives lost to blood cancers, in particular that of six-year old Emma Whittaker, from Buckinghamshire, who suffers from the rare genetic condition Fanconi Anaemia and needs to find a donor by March to save her life.
At each of their 2014 concerts, they have captured the crowd singing a part of the new song, 'The Rest Of Time', and have put together a gigantic collage of 2,000 voices to add to their own playing and singing on the record. The track will also feature acoustic duo Ethemia, regulars on Gaby Roslin's BBC Radio London show, and Minnie Birch, selected for airplay by Huw Stephens on BBC Radio 1.
Each and every person who has sung is being credited in the single release and the aim is to reach the singles chart which will allow the song to make an even bigger noise about the fact that not enough people have signed up to the blood stem cell donor registry. In 2014 this is a simple, painless and cost-free process. All it takes is a simple swab of the inside of your cheek and 15 minutes of your time. If you are in general good health, between the ages of 18-55 you can become a potential blood stem cell donor and pre-registration is possible from the age of 17. The charity Delete Blood Cancer UK say they're not stopping until they find a matching donor for every person in need.
You can register here.
To pre-order the single 'The Rest Of Time' click here – it costs just 79p to help save a life today.