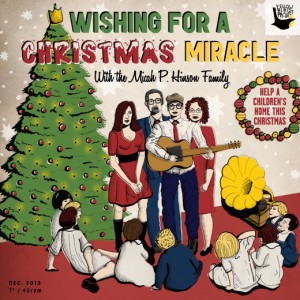 It is well known that we at FFS are suckers for a good Christmas record. Which is why we're excited to see that Micah P. Hinson has teamed up with the Yellow Bird Project to release a charity EP this year. Wishing For A Christmas Miracle comes in the form of a two-track limited 7″, signed stamped, numbered and individually decorated by Mr Hinson himself, and everyone comes with a download of an extended five-track EP.
All proceeds from the project will be going to the Christ Haven for Children home in Keller, Texas – a project selected by Hinson himself. Describing the project, Hinson recalled his upbringing in the Lone Star State, where music was a key part of creating the Christmas mood with snow rarely seen. "Whether it was listening to blistering echoes of "Baby, Please Come Home" by the genius of the Spector crew, the calm and serene "Aspen Glow" of John Denver, or the general mayhem of A Bananza Christmas with Little Joe and Haus; Music was everywhere, and in my child mind, it was just as good as snow," Hinson wrote in a blog on the Yellow Bird website.
More details of the project can be found here.