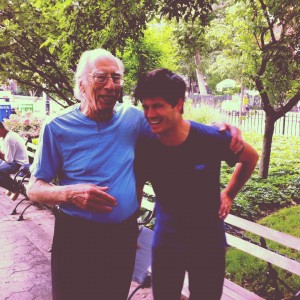 Mercury-nominated folk musician Seth Lakeman meets a global authority on the genre in a radio documentary to be broadcast this weekend.
Izzy Young, 85, has been a leading light in the folk scene since 1957 when he opened the Folklore Center on MacDougal St in Greenwich Village, New York.
In The Folklorist, Young travels with Lakeman back to New York from Sweden, where he now lives, to relive the the heyday of the Center, which became the heart of the American folk scene, and explore the effect it had on young musicians like Bob Dylan.
The Folklorist will be broadcast on BBC Radio 4 on Saturday, August 10 at 10.30am.
In this clip, Young tells Lakeman about his early dealings with a young Dylan, who later went on to write the song 'Talking Folklore Center' about the venue.