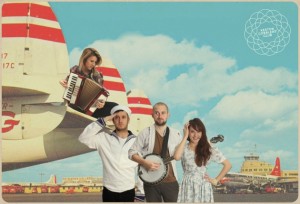 Keston Cobblers' Club have announced 'A Scene Of Plenty' as their new single.
The Bromley four-piece will unleash the track on August 5 as a follow-up to Beam, a former FFS Song of the Day.
'A Scene Of Plenty' is taken from the EP of the same name, which was launched recently when the band played to an invited audience on the top deck of a 1966 Routemaster bus.
For Folk's Sake went along and had a thoroughly lovely time being driven around London with KCC as a musical accompaniment.
To see the band in a more conventional live setting, you could pop along to see them supporting To Kill A King on their UK tour in October and November. Check out the band's website for details.