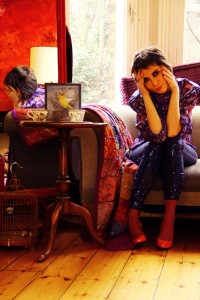 Today's Song of the Day is an exclusive first look at the video for 'In The Sunshine', the new single from London singer Helene Greenwood's.
The dreamy summer offering is taken from Greenwood's upcoming debut album Collectable You, which is out on October 7.
Talking about 'In The Sunshine', Greenwood said: "I wrote the song in one day and I found the meaning became more apparent throughout the course of the day.
"It's about the nature of time. How it can pass gradually as if on a summer's day and then seem faster as people's lives pass by. I love the contradiction in this."
The video, put together with artist Rebecca Lennon, captures perfectly this contradiction at the heart of the song.
With Calum MacColl in the producer's chair, Collectable You certainly has some serious folk chops and we look forward to hearing it. For now, check out 'In The Sunshine'.