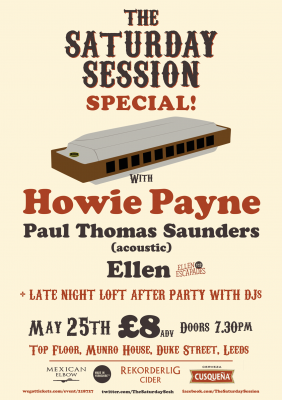 Howie Payne, former front man of The Stands, will unveil his latest solo work as he begins a short UK tour by appearing in Leeds as part of a show put on by Ellen Smith of FFS favourites Ellen & The Escapades. Payne, who released his Ethan Johns-produced solo debut Bright Light Ballads in 2009 has shows lined up in Birmingham and London but will get started in the intimate surrounds of Munro House in Leeds on May 25th, with local support in the form of Paul Thomas Saunders and Ellen herself.
Saunders will be bringing his unique vocal talents to the fore in a stripped back acoustic set while Ellen will also perform alone, a rare occurrence but one which has proved a treat in the past.
The show will be the latest in the series of Saturday Sessions put on by Ellen, starting in October last year, and the first to be held at Munro House. You can find more details about the event, including tickets, here.