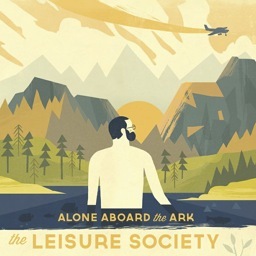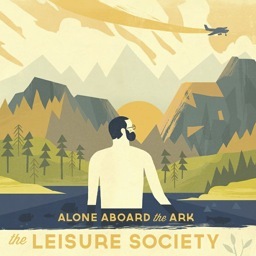 The Leisure Society's third album Alone Aboard the Ark is due for release on April 1st on the excellent Full Time Hobby. The first single to be taken from it is 'Fight For Everyone', which will be hitting the shops on 25 March.
TLS's songwriter Nick Hemming said: "During the summer of last year I was putting the finishing touches to the lyrics for Alone Aboard the Ark. I'd had this one song – working title Bisto Calypso! – for ages but hadn't been able to come up with any lyrics I was happy with.
"As the album deadline approached so did the 2012 Olympics and I managed to happily procrastinate watching 8 hours of Olympic coverage a day. I remember getting whipped up in the euphoria of the first big Saturday, watching those amazing GB performances.
"It also got me thinking about the immense pressure the British athletes must have felt, as they entered the stadium to the hopes and expectations of 80,000 cheering spectators. Although it spurred many of them on to exceed expectations some of them were only ever going to be also-rans, limited by what their human bodies were capable of on the day.
"Anyway, whilst musing on those contrasting moods the lyrics to what would become 'Fight for Everyone' finally began to take shape.
"Musically it feels like quite a departure for us, I just hope everyone likes it as much as we do because it's the BEST fun to play live!"
The song got its first play on Dermot O'Leary's Radio 2 show – you can hear a little snippet here.
~
In the run up to the release of the album, each member of the band is making a Spotify playlist.
First up is drummer (and backstage dancer extraordinaire) Bas Hankins and you can listen below. We salute him for his inclusion of Judee Sill and excellent Beach Boys:other stuff ratio. Tell Bas you think his music taste is awesome @bashankins.
The Leisure Society announced their April UK tour not long ago. Snap up tickets now while you still can!