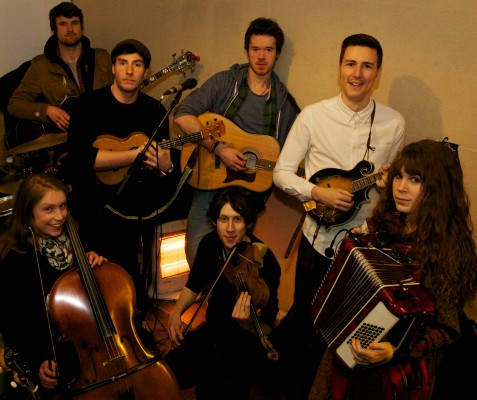 For Folks Sake are pleased to announce the recent signing of one of FFS's favourite current up-and-coming bands, Patch & the Giant.
Now working alongside London label 'Folkroom Records', the band are planning to release their debut EP in the coming months this year. Since forming little over a year ago, Patch & The Giant have grown steadily and merrily in size, sound and following. Having firmly marked their place on the London music scene with a roaring monthly residency at the Boogaloo, The Sunday Fete, they have shared stages with several of the finest acts from the scene in London and the South East. They have already collaborated twice with Folkroom, featured in their recent 'Anothology Two' album, not to mention selling out two headline gigs in the process.  They made their debut on the UK festival circuit in 2012, including Watchet Festival and Festibelly (both nominated for Best Grass Roots Festival at the UK Festival Awards). Their infectious brand of "rough-edged folk" (Time Out) is built on a bed of string, brass and accordion-fuelled sound.
It is certainly true that these lovely people never fail to impress with their energy, not to mention their ability to get the whole room on their feet and dancing, an admittedly rare phenomena to come across these days. Patch & The Giant are currently working with producer Ben Walker ahead of the release by Folkroom Records in May 2013.
Try and head down to Patch's very own Sunday fete at the Boogaloo in Highgate (next one planned for the 27th January), but for the meantime, FFS are very excited to see how this exciting new band get on with their EP in the new year.
Words: Ellie Rumbold