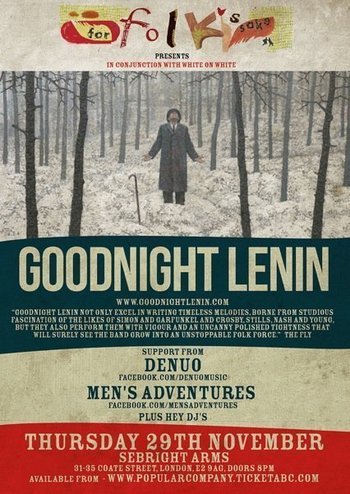 We're delighted to be tagging along with the excellent Goodnight Lenin at their show at the Sebright Arms in Hackney on Thursday night.
The eight-track EP, A Winter's Night, will be released on 7th January next year.
"The band have been touring relentlessly in the last 18months and we have built up a body of material that demanded we get it on tape" says lead singer John Fell.
Tickets for the Sebright Arms show are £4 (BARGAIN) get them here. We'll be spinning some tunes as Hey DJs! too.
The band are in the middle of a tour to support the EP now. You can still catch them at these places…
27th Nov – Guildford Boileroom
28th Nov – Leicester The Crumblin' Cookie
29th Nov – London Sebright Arms
1st Dec – Birmingham Birmingham Cathedral
2nd Dec – Leeds Nation of Shopkeepers
You can also find them on our charity record For Folk's Sake It's Christmas 2012. Have a wee listen here: