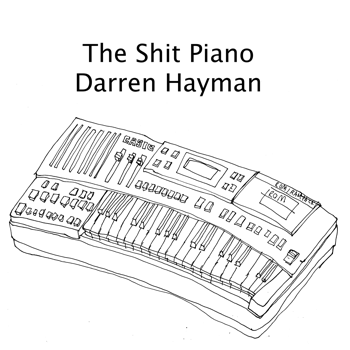 FFS favourite Darren Hayman has released The Shit Piano a re-recording of his recent album The Ship's Piano – which our Tom Moyser called "slow, delicate, piano-led, romantic, nostalgic and whimsical. And, above all else, brilliant." – in just one day and using only Casio keyboards.
Darren said: "We never do the ideas we have in pubs. In pubs we go, 'That's a great idea!' in the morning we go, 'Hmm not so great'. But what if the ideas we have in pubs are the best?
"I had an idea to re-record my album 'The Ship's Piano' in a day on casios and call it the Shit Piano. Although on the surface it's an idea based on a pun I was thinking about the tradition of remixes and the earlier tradition of Dub versions of albums.
"I tried to use the limitation of the Casios to find new and interesting readings of the songs. The album definitely isn't 'shit' on purpose."
>> Buy The Shit Piano and more Hayman recordings on Bandcamp
>> Visit Darren Hayman's website, Hefnet