Having quickly gained a strong online following after publishing a 4 track demo online, and even more so with the release of her first EP "His Young Heart" earlier this year, solo (Londoner) Elena Tonra (aka: Daughter) has announced  an new EP to be released on the 21st November. The tracks will be released through Communion Records and the full tracklisting for "The Wild Youth EP" is: "Home", "Medicine", "Youth" and "Love".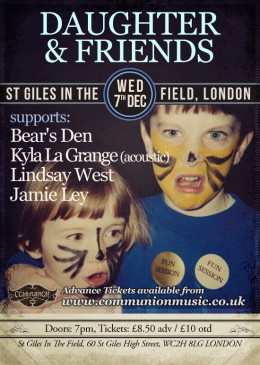 The last track "Love" is currently available to download from Daughter's SoundCloud page.
We hate to bring you Christmas news quite this early, but it seems worth it to know that the lovely Daughter will be playing three 'Christmas Special' shows in December. Support acts include Kyla La Grange (with an acoustic set), Bear's Den and Lindsay West, among several other guests.
Tickets and Dates are as follows:
6th December @ Bristol, Cube Cinema
7th December @ London, St Giles In The Fields
8th December @ Manchester, Deaf Institute
Buy Tickets here.
Words: Ellie Rumbold