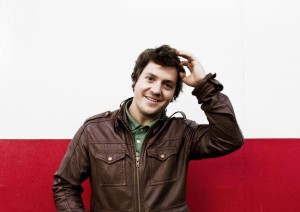 Having given up a youthful dalliance with punk to throw himself into folk music, Jonah Maddox has just released his debut album Together We Are Taller. The panel went in to hear the results.
---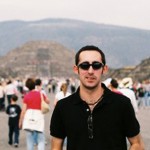 James Rutherford: On first impressions, Together We are Taller may sound like the product of a chilled out Kooks and Levellers 'super' group but a closer inspection reveals a very talented singer, songwriter and musician. Maddox starts things of with the intense, attention-grabbing Dia de la Gentle and it becomes apparent that this is a well made album. Acoustic throughout and featuring piano, strings, accordion and banjo, the compositions are rich, varied and swing from the soulful (Photograph) to the pacey and upbeat (A Sad Soul Can Kill Quicker Than a Germ). This record has some wonderful, affecting moments and none more so than the beautifully-crafted tracks French Place and Smile Lines. It's a shame the summer is over because this is the sort of album that should be played whilst lying in a field watching the clouds go by. Still, regardless of the season, it's a winner.
---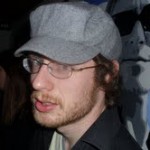 Tom White: It's always pleasing to hear an album made to be listened to in its entirety. Jonah Maddox's Together We Are Taller is one such, and sees the former Les Oeufs frontman addressing the passing of time and looking towards the future with a renewed urgency. Now 27, he admits: "I've reached an age where a girlfriend is for life and being made redundant (as he was in 2008, leading him to throw himself into his music) actually matters". The theme is evident as Elsewhere's "I keep spending all my money, and I rarely think of tomorrow" gives way to Photograph's "Let's take a picture of everything we wanna be and hope we don't look back in five years time and see a photograph mocking us". A Sad Soul Can Kill Quicker Than A Germ struck me as the stand-out track both musically, its faster-paced and rockier nature a welcome element of contrast, and lyrically with its story of unity in the face of a family illness. Maddox himself admits it brought tears to some family members, and with lines such as the album title and "If strangers were we we'd never meet/ but through blood and history our roots run deep", it is not hard to see why. Jose Vanders' backing vocals add another dimension to French Place while Smile Lines and Pandas Fighting are further highlights, with the album – produced by former Dexy's Midnight Runners fiddle player Simon Walker – improving as it goes on, and with repeat listens.
---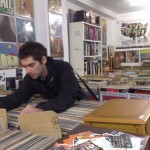 Ian Parker: First, allow me to urge you not to read Jonah Maddox's biography on his website. At least not until you've listened to his songs a few times. "I used to wake up in the middle of the night with lines for songs that sounded a lot like Bryan Adams and Chesney Hawkes," Maddox says. See, I've put you off reading it already. But don't let it put you off his music. Because there is, at least as far as I can make out, no hint of Bryan Adams or Chesney Hawkes on his debut album Together We Are Taller. No, there's more Seth Lakeman or a more animated Nick Drake in this gentle yet urgent record. You can hear that the ex Les Ouefs – a punk band – frontman has been around the musical block and learned the lessons along the way. This is an accomplished record, well written and well crafted, and executed by a man who clearly sounds like he has found his calling.
You can find Jonah Maddox at his website here.