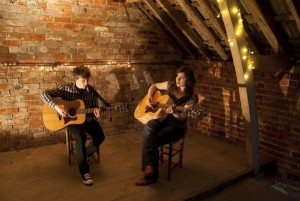 There is nothing complicated about the Paper Shades, a duo in which both Sarah Dollar and Jon Rixon sing and play guitar, but from this simple formula, our panel found some great results.
---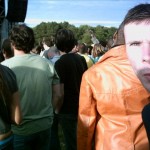 Shaun McCoy: The Paper Shades have created an appetizing, polished EP. Sarah Dollar and Jon Rixon combine smooth vocal harmonies with shimmering acoustic guitars. It shows off some excellent artistry, matching fine arrangements with meaningful lyrics. Low Winter Sun sees Jon taking the lead, flowing over Sarah's elegant backing. We have rich sounding strings accompanied by percussion effects reminiscent of waves hitting a shore line. On Lacewing Sarah delivers a beautiful melancholic vocal to harp-like sounding guitars. A feeling of optimism is reached through there reassuring lyrics.
---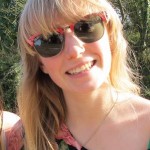 Anna Mellor: The Paper Shades claim their influences as Mumford and Sons, Fleet Foxes and Nick Drake among many others, but the sound they create seems to be rooted much more strongly in traditional folk music. This would not at all feel out of place at a local village folk festival. The guitar melodies are complex and the vocal lines often too but with an overall very simple feeling to the tracks. Sarah Dollar's voice is dreamy and the harmonies provided by Jon Brian are a very nice touch. I don't think this sort of music has the ability to 'make it' anymore but I hope some people will find satisfaction in their music and their rather beautiful debut EP.
---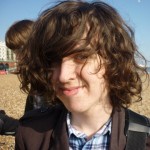 Jono Ganz: The interplay between Jon Rixon and Sarah Dollar, who make up folk duo The Paper Shades, is captivating. In fact, it's hard to describe their music without going over the top with flowery vocabulary. For example, on their live recording of Follow Me, Dollar's vocals shine with a polished pop sheen over the sullen momentum of the duelling guitars. Bear in mind that this was recorded live (in a living room, no less), without the kind of studio manipulation used so often nowadays to create artificially beautiful music. Their EP is full of perfectly executed vocal harmonies and tumbling, fingerpicked acoustic guitars. Give it a listen, if only to understand the floridness of my description.
Check out the Paper Shades for yourself here.