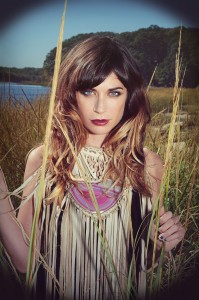 1. Hello, please introduce yourself and your music to the uninitiated.
Hi, I'm Nicole Atkins. Im from Asbury Park, NJ but I live in Brooklyn. I write, sing and play guitar for my band Nicole Atkins and the Black Sea. We play psychedelic, crooner blues rock.
2. Tell us a bit about your new album, Mondo Amore.
It's a darker sounding record than my last one. More centralized on guitars than strings. I kept it very raw and garagey at times. Its a breakup record but it doesnt take cheap shots. Its sad and sexy and heavy. The contrast between light and dark was very important to me in crafting the sound of Mondo Amore.
3. What has been your best ever gig?
My favorite gig with my band was playing the Bonnaroo festival for the first time. That was our first big crowd. Playing in front of 6,000 people I felt like I could pull of anything. One of my favorite times singing onstage was doing a duet of Marvin Gaye and Tammi Terrell's 'You're All I Need To Get By', with Jim James and My Morning Jacket at Madison Square Garden on New Years Eve in '08. That was an amazing experience.
4. What is the worst thing about being a musician?
Getting sick on the road and having to sing a show when I have a bad cough.
5. What music do you listen to?
Right now I'm listening to Delia Gartrell, Cass McCombs, Howling Wolf, Marie Queenie Lyons, CAN, the Black Angels, and the Jim Jones Review.
6. What inspires you?
Love and lack of love, bodies of water, death, early hours of the morning, New York City, rituals, the deep south.
7. If you won a billion pounds what would you do with it?
I would invest it in my bands, my family, my hometown and their schools and music programs, New Orleans musicians and getting them back home, and I'd build a recording studio. And for something indulgent I'd buy a houseboat to live in.
8. Which of your songs is your favourite? Do you have a least favourite?
Right now its 'The Tower', because it's like an entire movie in 6 minutes. Also 'You Come to Me', because it makes me wanna break things. I don't have a least favorite. They didn't make it onto this record.
9. Do you have any exciting plans for the future?
We are going to be doing the Bonnaroo festival this summer and lots of touring in the states and overseas. We've been sounding pretty large onstage for only four people so that's been really exciting.
10. Who should we be listening to?
Other than me? hahaha. You all should listen to Minerva Lions, the Jim Jones Review, Lee Fields, Mon Khmer and Luke Rathborne.