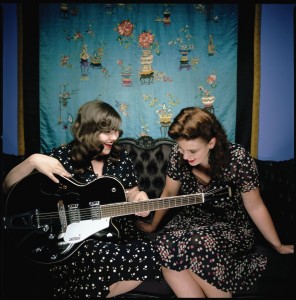 1. Hello, please introduce yourself and your music to the uninitiated.
We are Laura and Lydia Rogers, two sisters from Muscle Shoals, Alabama, who sing early country, folk, Americana, and gospel music. We are 24 and 22, respectively. We both sing and play guitar during our performances, and have been likened to the Everly Brothers, the Louvin Brothers and the Andrews Sisters.
2. Tell us a bit about your album.
We recorded our record in Nashville, TN, at the legendary Blackbird Studios. It was recorded in two weeks, using a gang of really incredible sessions musicians, and was made just like records from the 1950s. We used very old microphones, and sang into one mic. We also recorded everything to tape machines, and the band played in the same room. We didn't allow any autotuning on our record, and wanted to be true to the way records were made fifty years ago. The record has eleven songs on it, two of which are originals. The other nine are covers of songs such as "Why Baby Why" and "Do You Love an Apple."
3. What has been your best ever gig?
We've had so many incredible gigs… It would be nearly impossible to choose only one. We were able to tour last year with Ray LaMontagne and Levon Helm, which was a huge honor for us. We also got to tour with Willie Nelson, which was wonderful. A few days ago, we played the Grand Ole Opry for the first time. It was such a milestone in our careers! To know that so many legendary artists had stood in that same spot was just mindblowing. The Opry is a really sacred place, and if you know your American history, you know that the Opry is such an important fixture in the fabric of our country's music history.
4. What is the worst thing about being a musician?
Being homesick is probably the most difficult thing. We are both very close to our family, and being gone all the time can be tough. Luckily, modern technology helps make it much easier to keep in touch with everyone when we're on the road.
5. What music do you listen to?
Laura: My all time favorite, live or recorded, is Brandi Carlile. She is so inspiring to me. I also am guilty of living in the past…with artists such as Hank Williams, Johnny Cash, Loretta Lynn, Tammy Wynette, etc. I also adore the Everly Brothers. Ray LaMontagne has been in my record player nonstop lately….he just sounds incredible no matter what. Also a young guy named Dylan LeBlanc, who is an amazing writer. I love his latest record.
Lydia: I'm a big fan of Bob Dylan, Neil Young, Crosby/Stills/Nash/Young. I love Fleetwood Mac. I'm a huge fan of the Dead Weather, Grace Potter, Fiona Apple, Laura Marling, Mumford and Sons…. There are so many talented people in the world!
6. What inspires you?
Our family, for sure. Our family is very musically inclined, and they really have helped us foster a deep love for music. We are inspired by our faith, our friends. Other artists, especially the ones we've gotten to tour with. Elvis Costello, the Punch Brothers, Ray LaMontagne, Karen Elson, Jack White, T Bone Burnett, etc.
7. If you won a billion pounds what would you do with it?
Use it to buy ourselves a tour bus, a private jet…things that would make life on the road a little more comfortable. And I suppose it would be nice to donate some of it to a worthy cause. Money can only make you happy for a little while.
8. Which of your songs is your favourite? Do you have a least favourite?
Laura: My favorites are "I've Got a Feeling" and "House of Gold." There are certain songs that are more difficult to sing, but they are still great songs, regardless.
Lydia: Mine are "The One I Love Is Gone" and "All About You." My least favorite is "My Heart Skips a Beat," but only because we sing it so much.
9. Tell us about your tour with Ray Lamontagne. Do you have any other exciting plans for the future?
We are HUGE fans of Ray. He is so unbelievably talented. The world is so fortunate to have him, creating and being a wonderful person. He is so sweet, and has been so supportive of our careers. We will be touring with Ray again in May/June, but before that we have some shows scheduled with Amos Lee and Loretta Lynn, along with some really great festivals. There is talk of a trip to Australia in April, and a headlining European tour in May. Basically the entire year ahead will be booked with tours!
10. Who should we be listening to?
Dylan Leblanc, American Bang, Fitz and the Tantrums, Play.Dance.Repeat.