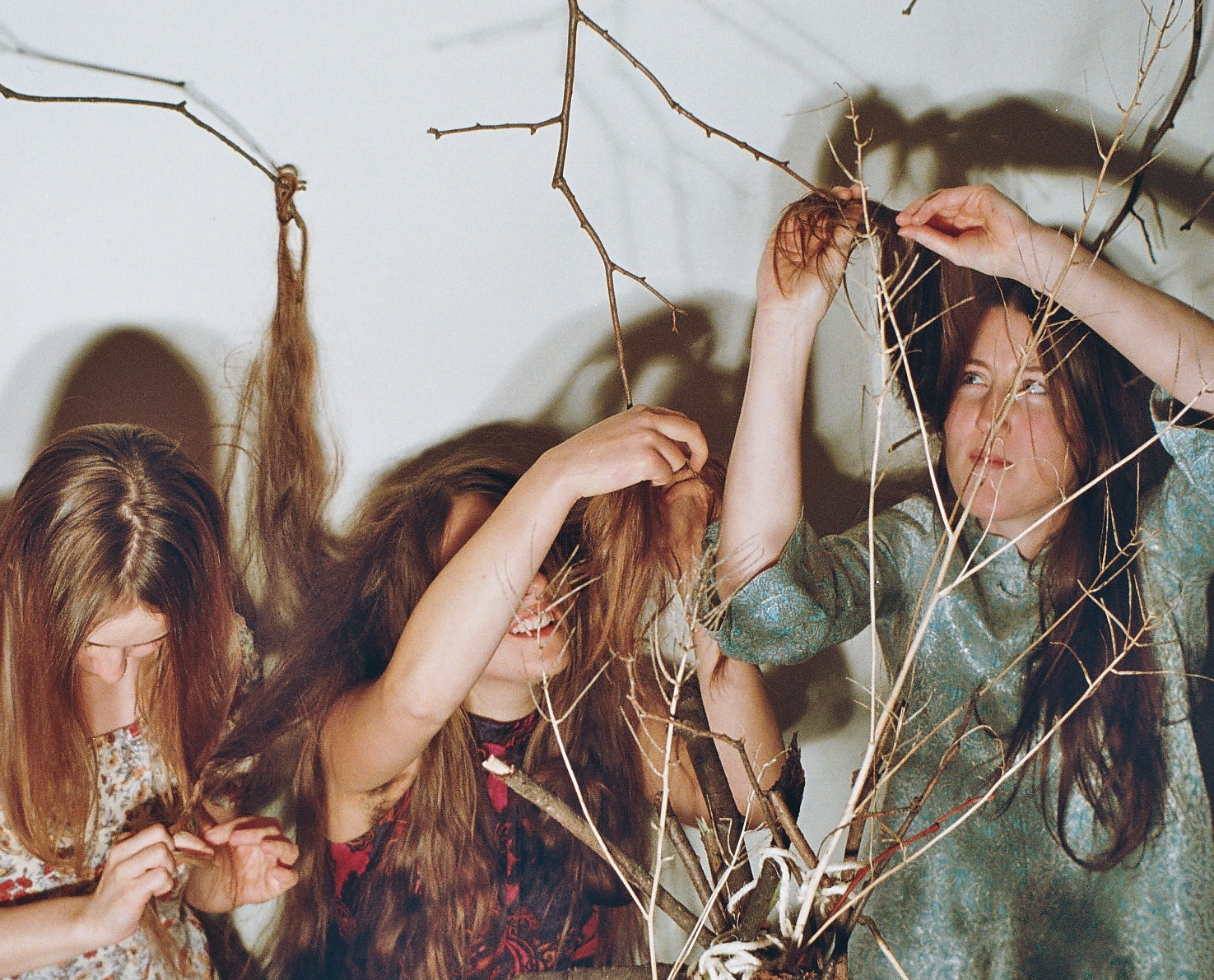 1. Hello, please introduce yourself and your music to the uninitiated
We are Becky, Emily & Lucy. We live in Liverpool. At the moment we have an old Yamaha keyboard, electric guitar and a stripped down drum kit. The music revolves around the three part harmonies and we like to be creative with our approach to songwriting, lyrics and song arrangements.
2. Tell us a bit about your next release
We are releasing our first 7" single in February called The Mountain Dogs. Our record includes two tracks, on Side A is 'The Mountain Dogs' and on Side B is 'Your Saddest Song'. We'll make it available digitally too but the limited 300 vinyl's will be tucked away in indie record shops around the UK for anyone who wants to hunt for them!
3. What has been your best ever gig?

We played in Arnold Circus Bandstand recently on Halloween for the Bandstand Busking channel. There were loads of people dressed as monsters. The gig had a really nice cosy autumnal vibe.We also played at the legendary folk venue 'Dulcimer' in Manchester as part of our last tour, with the lovely Ólöf Arnalds (a tiny Icelandic singer introduced by Siguros & Bjork this year) that was our 3rd gig and we were a bit shaky but got a big kick off it, the audience was really appreciative and attentive.
4. What is the worst thing about being a musician?
Definitely the driving! Hitting the road for a tour means you spend most of the time in a car or van. The secret is a stash of your favourite music. For us The Doors, Simon & Garfunkle, The velvet underground, Vashti Bunyan and Bo Carter.
5. What music besides your own do you listen to?
At the moment we're listening to a lot of old records and tapes, with our producer Joe. We are referencing that low-fi production and recording style for our new songs. The Wendy & Bonny sisters are this amazing American folk duo from the late 60s who've inspired us a lot recently, but there's Micachu, Little Dragon, Deer Hoof, Ane Brun and The Dirty Projectors that are definitely getting a lot of plays too! In terms of live music, we played with Mice Parade on our last tour and they have a great live show, really nice guys too.
6. What inspires you?
We're inspired by each other and bounce a lot of creative ideas off our producer. There's also a great theatre space turn midnight dance club in Liverpool called the Kazimier that inspires us loads. We've got our record launch show there with Lone Wolf & Owls* on Feb 5th next year.
7. If we gave you a billion pounds what would you do with it?
We'll go for the fanciful answer instead of the world peace route. We'd commission an eco-friendly mini bus (that didn't break down) and take it round the world on the ultimate tour with puppets, projectors, bunting and dancers. The tickets, carousel and costumes would all be free of course.
8. Which of your songs is your favourite? Do you have a least favourite?
We like playing 'The Mountain Dogs' because it's upbeat, uplifting and catchy, we often go wrong so it's also really funny. The worst would be the time we tried to cover 'Rocking Around The Christmas Tree' for a Christmas party, that's definitely our least favourite; it didn't work out very well.
9. Do you have any exciting plans for the future?
We're releasing another limited 100 single's on vinyl in the summer with a label called IdleFret based in London, it's called Noah & the Paper Moon. For this we're making our first music video with local filmmaker Jack Whitely, inspired by visual trip films like Frank Zappa and the Oddsac animal collective film. We're looking forward to a tour of Europe next year and the summer festivals too!
10. Where can we hear more?

If you're reading this we'll assume the internet's your best route! We'll direct you to
vimeo
because there's live videos there… and of course there's
myspace
too which has all our music, concert dates and pictures. For all those in the real world go and scout your local record shop for our last EP
What If The Lights Went Out
or wait till February for our Mountain Dog record!
---
Stealing Sheep have just confirmed a UK tour for February, taking in London, Nottingham, Liverpool, Manchester, Brighton and Birmingham. Check out their myspace for more information.