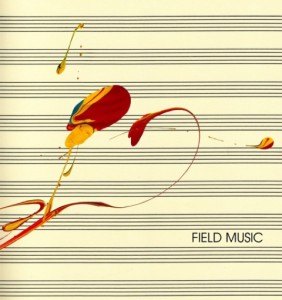 Field Music's incredibly varied album Measure is, in FFS's humble opinion, the best of their career. So we nominated it for our annual best album prize, the Schmercuries. (There's still time to vote for your favourite album below.) David Brewis from the band took some time out to answer our questions…
FFS: Congratulations, you've been nominated for a Schmercury. How do you feel?
David Brewis: Very pleased, thanks. It's a very good name for a contemporary music prize.
What did you think of the Mercury nominations this year?
In all honesty, there's very little new music, especially from this side of the atlantic, which I have any interest in whatsoever so it makes sense for me to expect very little from the Mercuries. I've accepted that they're not designed for someone with my tastes and therefore I'm never disappointed.
Aside from your own, what's your favourite album on the Schmercuries list?
I've actually only heard a couple and none of them enough to make any kind of weighty critical judgement.
What album (released in the past year) have we missed off the list?
Thomas White's album, The Maximalist, and, if we're allowed music from across the pond, Medications' album Completely Removed. Both full of ideas explored and tunes deconstructed in interesting ways.
What are your thoughts about Measure?
I think it's one of our best! I think me and Pete can feel pretty pleased that we've managed to push on and improve on lots of the things we've been trying to do. We had something in mind when we started and just about managed to pull it off.
Did you know it was special when you were making it?
I don't particularly think it's any more special than our last few records, but I probably felt more confident while we were in the studio than I have in the past. Because we record ourselves, we used to spend a lot of time worrying about whether we could make something which sounded like a real record.
Were you happy with it when it was released?
I was very happy to finally get it out there, partly because it had been a full 3 years since we released a Field Music album and partly because we'd been sitting on it for four months! We finished the mixing and mastering at the beginning of October 2009 and it wasn't released until mid-February, which is completely understandable but also quite frustrating.
What do you think about the critics and fans' reaction to it?
It's been heartening that so many of the people who like it, really, really like it and have been excited by the depth and volume of ideas they've found in it. There have also been plenty of really scathing reviews too but, when you make a double-album with a ten-minute long found-sound composition and a bunch of wah-wah guitar solos, you just have to take what's coming.
What's your favourite song on the album?
Difficult to say – it's changed quite a few times and I haven't actually listened to it for a few months. The last time I thought about it, I'm sure I said Precious Plans and Let's Write A Book.
What's your favourite album ever?
For argument's sake I'll say Sgt Pepper's Lonely Hearts Club Band by popular Liverpudlian beat combo, The Beatles.
Do you have plans for your next album?
Yeah, we've probably got plans for the next three or four but we've been far too busy touring to do anything about it.
---
Vote for your favourite album of the year here. The winner will be announced on Wednesday 15th September.
[polldaddy poll=3586532]