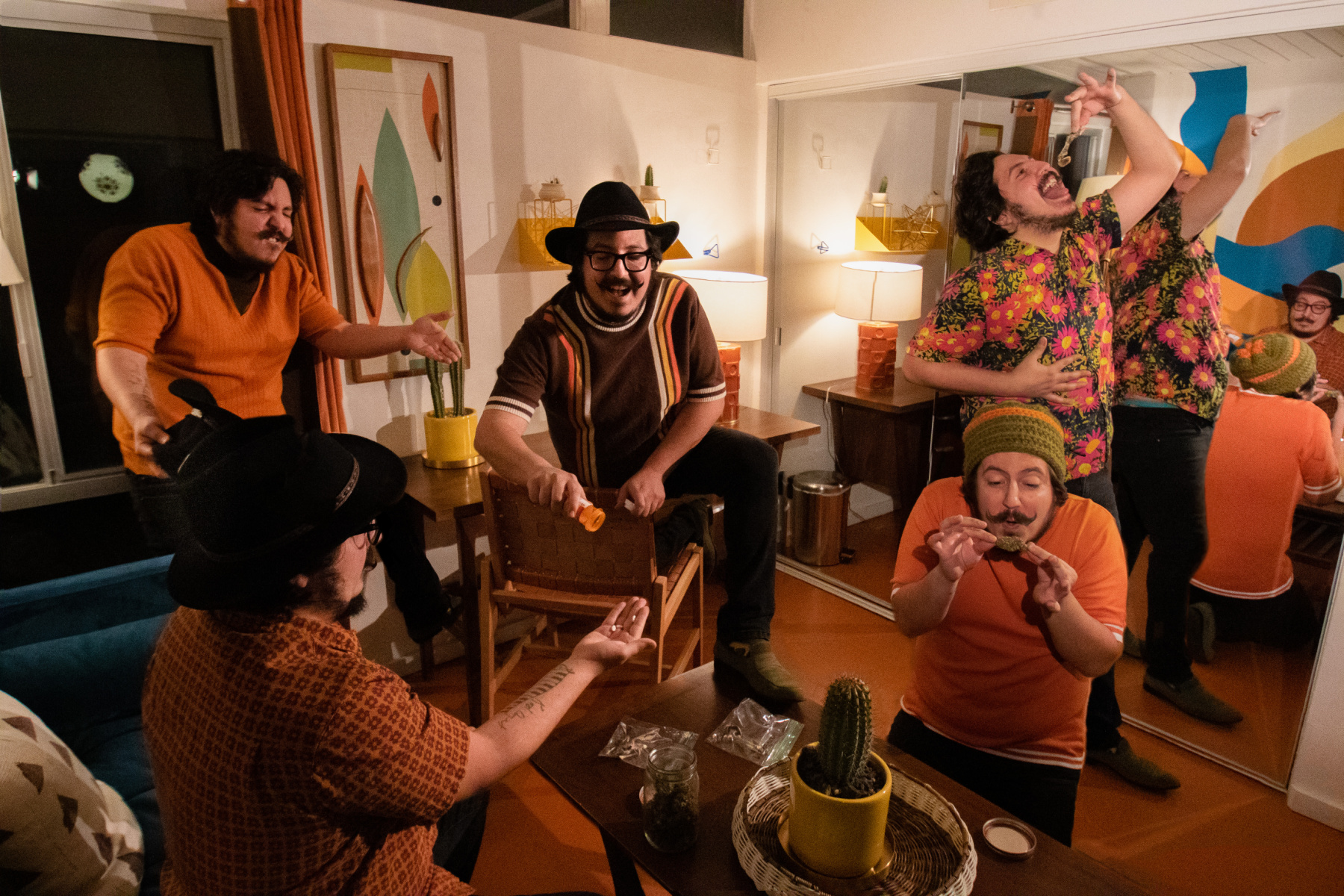 Unfortunately Steven's new LP is about as interesting as its name—and its name is Groovy Avocado Disco. It's eclectic, fully-baked indie rock that, as the tendrils of modern society coalesce, will only become more relatable. The album is an acronym for "Generalized Anxiety Disorder", and speaks much to the sinew at its underbelly. Steven Ramirez's fun-loving side is on full-on display throughout the album; it's an easy, inspirited listen that becomes more thematically complex the more an attentive ear is paid towards it. The offbeat artist makes an autobiographical splash on his latest. Now, he's taking some time to chat with us as a part of our ongoing 'FFS 5' series.
Please tell us a bit about yourself. Where are you from and how did you get started in music? Any defining moments along the path to present day?
I grew in the suburbs of Los Angeles. Covina to be exact. It's east of West Covina. There is no East Covina. I started playing guitar when I was 12. This would have been circa 2000 during the height of the pop punk movement. That movement sparked my first interest in playing music. I took a guitar class at Covina High School to learn the basics. I remember when I was 13, my guitar teacher was absent and our substitute had us watch a movie, Great Balls of Fire. It was a defining moment for me. That was 100% the moment that changed my life forever. From then on, I had to play piano and bang the shit out of it at all costs. I still feel that way every time I see an upright piano and I find that pretty special. That feeling hasn't gone away and I'm grateful for it. Unfortunately, I've added more toxic feelings along the way, but I hold that favorite one dear to me.
As an artist, how do you define success?
I'm not sure how much I believe in success. I believe in attempting to be happy and laughing at everything. I feel like all these things we strive for are fleeting. Success, joy, sadness, anger and what not. They are only for a moment in time and you have to put an active effort in to keep it that way. Some might say it's successful that I wrote an album. Sure, there may be truth to that but now what? I can't hold the feeling of that success. It had it's moment and now it's gone. I view it as a time capsule of a certain life experience. A collection of moments is all we have and that's all it will ever be.
What do you find your greatest struggle to be when it comes to the music business?
That first and foremost it is a business and profit is all that matters for them. You are a commodity and no one cares about you unless they can exploit you for their own benefit. This is unfortunately the truth and what the artist must face. I am a strong believer that if the music is of quality then the people will find it and make it heard regardless of shady business. Historically, real art tends to slip through the cracks and people connect to it. This brings me ease and keeps me going.
What do you think is the most realistic goal you can achieve as an artist and as a band? What do you hope to achieve?
I have three goals for this album. I want to break the stigma of mental health and help people feel more comfortable to start their own therapy. Anxiety and depression are crippling issues to the human experience. Everyone needs therapy and if only one person starts their own journey with it due to this project then mission accomplished. I also want this album pressed on green vinyl. It was designed to be experienced as a record. Holding that in my hands would feel nice. The last is to meet Tom Hanks. Which is a bit of a long shot though.
Outside of music, what do you like to do that you feel contributes to the creativity that you tap into for your music?
Music has been everything in my life and I don't leave space for much else. It may seem obvious but therapy has helped me to be creative. Without it, I wouldn't have built up the confidence to write how I truly felt. I consider therapy and songwriting as the only way to mine the soul. Those two activities go hand and hand in helping to reach something deep inside you that you didn't know was there. I do also enjoy reading. I did a lot of that during quarantine which was lovely. Bukowski and Fante are writers who inspire me. I'm a big fan of depressive realism. It brings me joy and for some reason makes me feel alive. The book Wherever You Go, There You Are also helped ground me into the human I am today, along with the weekly therapy sessions. That combination is a good recipe for creativity. Unfortunately, mining of the soul can hurt so I have to tread lightly.
Words by: Jonathan Frahm