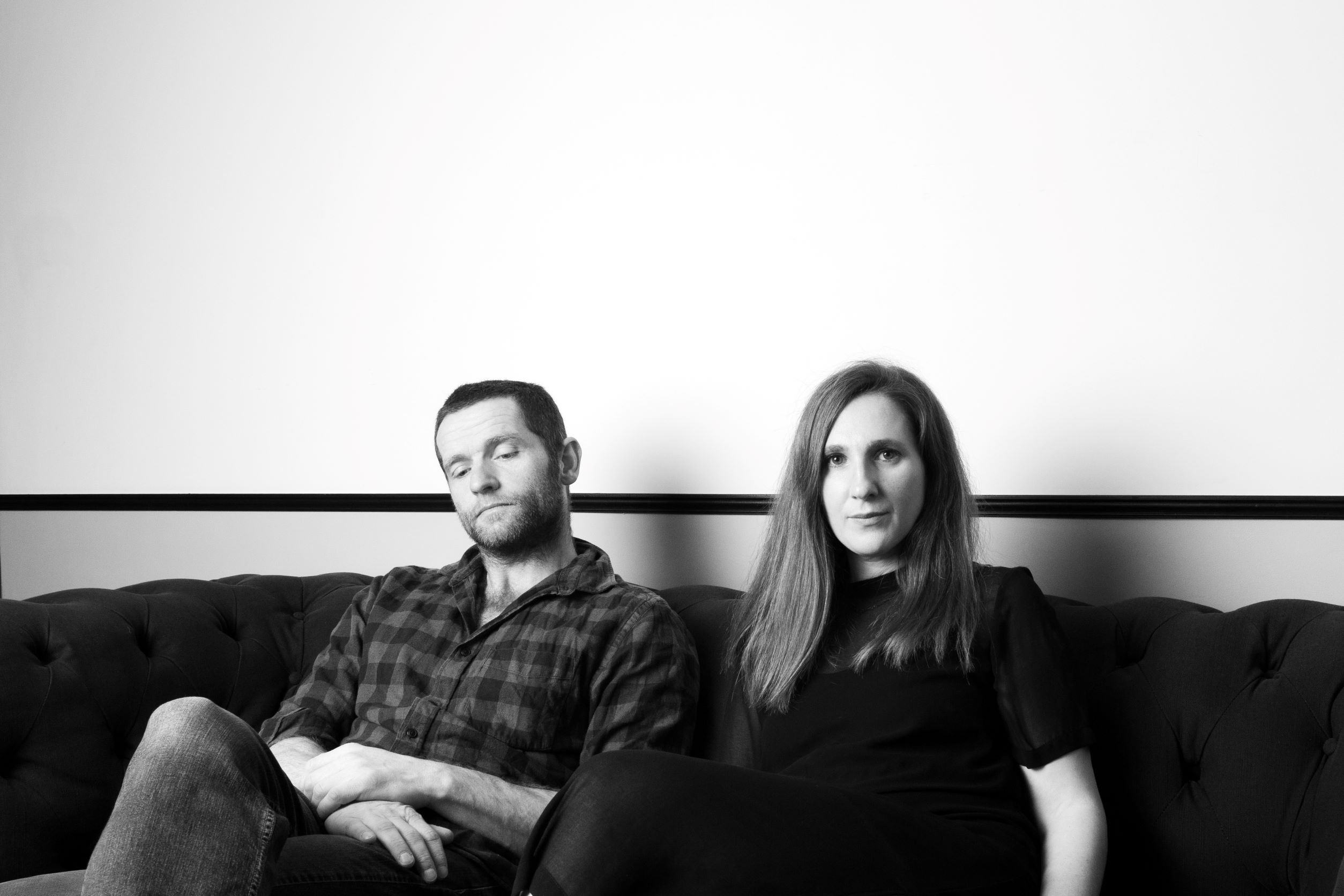 David Ford and Annie Dressner, both acclaimed solo artists in their own right, started collaborating, writing, and touring together in 2022. The result was an album of lush duets finished in just two days, 48 Hours, and their upcoming Summer Holiday tour. We met over Zoom on a sunny Saturday morning to discuss their album, their musical passions, and what makes them happy in life.
Tell me how you each started making music. How and where did it begin? 
David: I started when I left school, which is hundreds of years ago now. I just really loved songs, particularly sad songs that made me cry. I wanted to learn how to dismantle them and put them back together and make my own. So it's been kind of a life's mission since then, it grew out of that obsession, and if you're that committed to it you find a way. I started off playing in bands and eventually found my way to what I do now, which is writing songs and making records in a little room at the bottom of my garden.
Annie: My father plays the piano, and every day almost, when he came home from work, I would sing with him. It was my favourite thing that I looked forward to, and I used to sing to the radio when I was in the car with my mom. I didn't know the words, so I would make them up. I just really liked to sing, I guess. I started playing guitar the day I graduated high school, and taught myself how to play from a Simon & Garfunkel book. It didn't occur to me until I was eighteen that I could write my own songs, but I think I was always doing it anyway. I'm like the weird person who sings in the elevator. Singing is how I process my feelings, so I think I always did it but wasn't aware that I was doing it, if that makes sense.
How did you meet and start making music together as a duo?
David: We have a mutual friend in Polly Paulusma, a magnificent singer and songwriter, and Annie's name was thrust in my direction as somebody to get on the bill and open some shows for me in Durham. Polly vouched for Annie as she'd toured with her before. I'm a bit grumpy and cantankerous and curmudgeonly, which may not come across from my playful boyish demeanour, so I like to tour with people I like, and any friend of Polly's is a friend of mine. We sent each other some songs to collaborate on before the tour started, played a couple of songs together and really liked it, it just seemed to be a good fit. We thought we'd expand it outwards and write songs together, and that was comfortable as well. It grew organically out of that.
Were there any venues or gigs you especially enjoyed on tour?
Annie: I loved playing The Old Cinema Launderette in Durham. I always love playing there, but it was especially special as we played two nights in a row and it felt really wonderful to sing our cowritten songs in such an intimate setting.
Do you approach songwriting in a similar way, or are there productive differences?
Annie: Quite different. David seems to think about… words more than me (laughs)… I play music and sing at the same time, and record, then listen back and type up what I wrote, and David…
David: Nothing like that. I tend to sit in silence, usually with my eyes closed, and just think (laughs). I like to go for a walk. So it doesn't involve a great deal of writing until I feel like I have the idea pretty much down. Then the last thing I do is pick up an instrument and work out what the music is. I almost learn it like it's a cover of someone else's song. Annie writes much faster than I do, and a lot more confessionally. If I'm feeling a lot of stuff I can't write with any kind of clarity, I have to be in a happy place to write about sadness.
Annie: David and I both studied theatre, and I studied method acting. So you are a character in those shows, but you do use emotions from your experience, through those characters, so it's still real feelings.
David: Yeah, you have to empathise, and have relevant parallel experience to draw upon, but I don't buy into the idea that everything's autobiographical because my life's not that exciting. If I was restricted to exactly my experience, I wouldn't be able to write, y'know, murder ballads, because I don't do that much murdering…
Annie: Sounds like a cover-up David (laughs).
Tell me about your new album.
Annie: We started by sending a song back and forth that, probably, nobody will ever hear, that was for lack of a better word, not good…
David: It was dumb, but it was like an icebreaker,
Annie: And then it happened quite quickly, sending ideas back and forth, and we wrote all the songs in two days, which is why the album's called 48 Hours.
Do you have a favourite song that you've worked on together?
Annie: I liked working on all of them, honestly.
David: 'Warning Sign' was good.
Annie: I sent you the first little bit, and you said, "Here's some ideas," and basically what you sent was the whole of the second verse.
David: The songs were like extended metaphors, the warning sign for various kinds of warning you might get in your life.
Annie: Which I would never have thought about doing without writing with you, like, I don't write in metaphors.
David: It has this emotional realness about it, it feels like a story of people telling their truth, (even though) it's entirely made up. It felt like proof that we could write songs together.
Are there any other artists who have influenced you or who you admire?
Annie: I listened to a lot of Simon & Garfunkel growing up, Carly Simon, Belle and Sebastian, and Foo Fighters, jazz music and classical music. I like a lot of indie bands as well, but we didn't think about influences for our project because we didn't really intend to do it…
David: We ended up doing very simple instrument and voice recordings, largely for expediency – just an instrument, two voices and nothing else – but I quite enjoy that, it's bold. I'm big into Leonard Cohen, particularly his later work, his old man era, he was quite literally a poet, and his way with words is a constant inspiration. I feel the same way about other old dudes, like Tom Waits and Bruce Springsteen. I think I really wanna be old, so I can be one of those guys.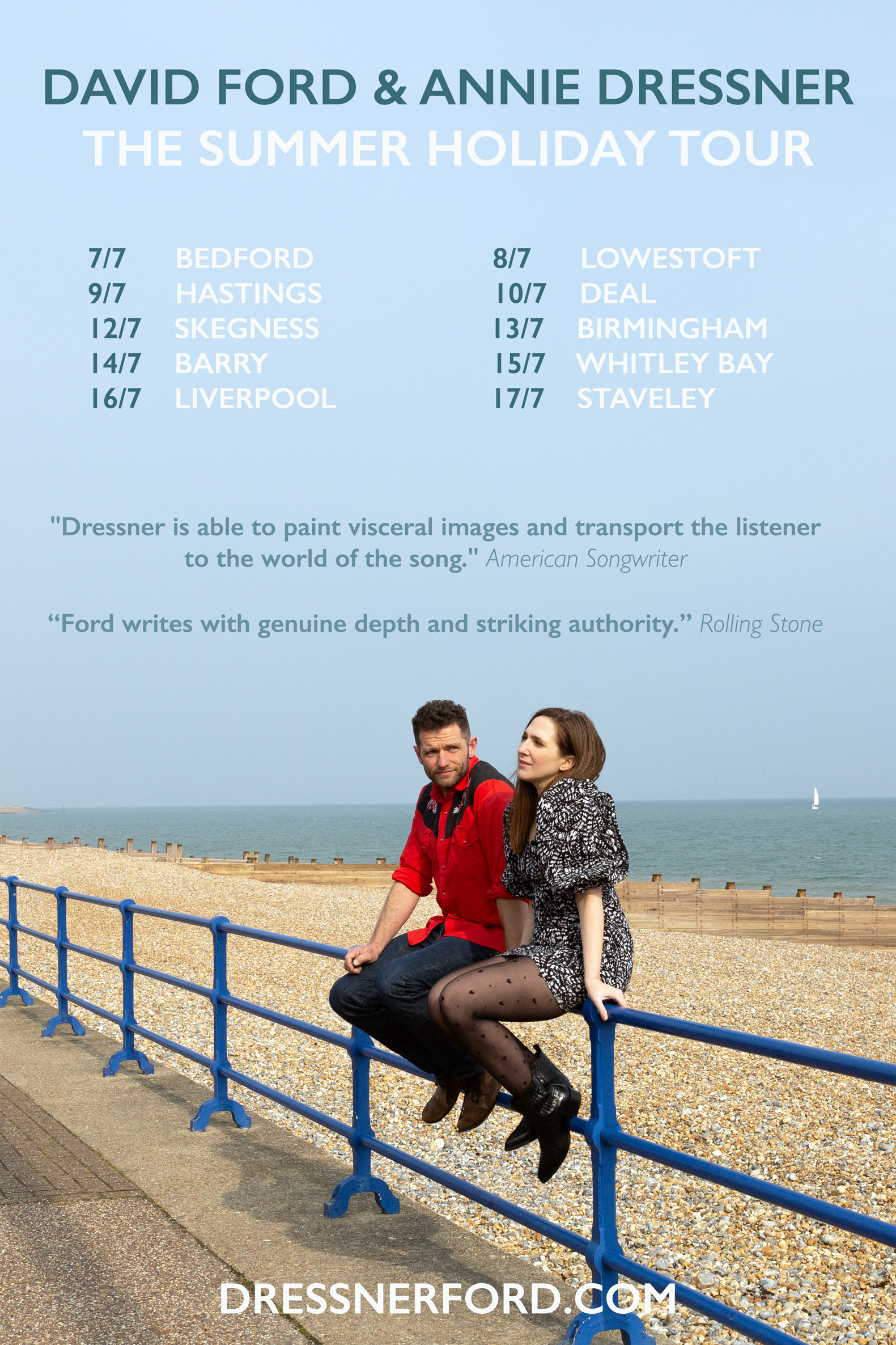 What do you think makes a great song? What have you been listening to lately?
Annie: I have to like their voice, a good melody, a nice arrangement, and the words have to be quite good. If the words are bad, no thanks, like really bad puns (laughs). There are two songs that I listened to a lot during lockdown, from Kathleen Edwards' album, 'Options Open' and 'Hard on Everyone'. They're fun to sing along to.
David: For me, in a good song the lyric and melody both have to be good, they have to fit together well, they have to feel good in the mouth when you sing them, the words have to mean something, and the music has to support the meaning of the words, so the two things should be utterly inseparable, they need to strengthen each other and be greater than the sum of their parts. I hate love songs that say 'I love you' in them – like, do your work. The best songs don't tell you what the feeling is, you feel the feeling, and a skilful songwriter will bring that out of you. I'm too busy to listen to as much new music as I'd like to, but we often have records on – yesterday I listened to the Pet Shop Boys and Hunky Dory by David Bowie.
How would you describe your music to someone totally unfamiliar?
Annie: Singer-songwriter, I don't know (laughs).
David: As a curmudgeon, I'd say that's not my job – it's my job to do it, then I don't need to describe it.
Apart from music, what makes you happy?
Annie: I'm also a photographer, so I like taking photographs, and I like… to walk? (Laughs) is that a thing? It's good! I like to go for a walk on a nice day. I like listening to music in my car. I like bagels… I like breakfast generally. And I like my family of course, being a mom.
David: I like the beautiful game of football. I often say if I was a better footballer, I'd never have been a musician. I love making things out of wood, I'm a very keen amateur carpenter, so that's a side hustle I have going on, and… I like sheep. I love a good field of sheep.
Annie: I spent a lot of time in a car with him and he's not joking, the guy likes sheep.
David: I find sheep joyous! They're like little clouds with legs, they're great.
What are your plans for the future?
David: We have the album coming out, then July 7th to July 17th is our summer holiday tour, which is stopping in a lot of seaside towns, the kinds of towns that music tours don't usually call in at. Whitley Bay, Skegness, Lowestoft, Deal, Hastings, Barry, some select inland locations, Liverpool, Birmingham…
Tour Dates with Ticket Links embedded:
7/7 BEDFORD – The Place Theatre
8/7 LOWESTOFT – The Seagull Theatre
9/7 HASTINGS – The Electric Palace Cinema (SOLD OUT)
10/7 DEAL – The Astor Theatre
12/7 SKEGNESS – The Neverland Theatre
13/7 BIRMINGHAM – The Old Joint Stock Theatre
14/7 BARRY – The Small Space (SOLD OUT)
15/7 WHITLEY BAY – The Laurels Theatre
16/7 LIVERPOOL – The Hope Street Theatre
17/7 STAVELEY (near Kendal) – The Staveley Roundhouse Theatre