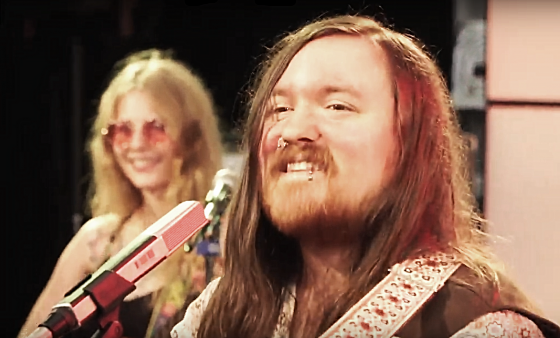 Mabloni's music is flower meadows, homemade jam, and late-night talks under the starry sky. It's everything right in the world – a plaster after a papercut, a hug after a hard day. I have often listened to the singer-songwriter when I was sad, angry, scared, and every time, his voice managed to coat me in the sugary sweetness and warmth of 60s nostalgia and family BBQs. Now, he's getting ready to release his next album, which I can already tell you will be smashing. For this release, his girlfriend Isabell joined him for gentle harmonies, and their latest single 'Somewhere by the Sea' is reminiscent of 'Our House' by Crosby, Stills & Nash.
Whenever I describe the singer-songwriter to friends, I say he "looks like he's just walked out of the 60s" and it usually does the trick. He meets me at Treptower Park, a park in former East Berlin, designed by the Soviet architect Yakov Belopolsky to commemorate the soldiers fallen in World War II. Mabloni could not look any more out of place with his long brown hair, colourful flower shirt, and a golden mandala earring in his left ear. "I buy my jewellery on Vinted," he says when I tell him I have similar earrings at home.
His tote bag is ringing with the Radlers he brought, and we sit down by the Spree river and crack open our beers. I tell him he reminds me of someone from Laurel Canyon, the countercultural mecca of the 1960s that used to house Joni Mitchell, The Byrds, Jim Morrison, and many other musicians. "Did you see that documentary about Laurel Canyon?" he asks. "I cried in the part where Graham Nash talks about how he came up with 'Our House'. He went out for breakfast with Joni Mitchell, and she bought this vase and they came home, and he stoked the fire while she put the flowers in the vase. And then the song was written." I'm not surprised when Mabloni tells me the story touched him. "I got it from my mum," he adds. "She cries over everything, even commercials."
Despite his interest in the music that came out of the States in the 60s, he has never been there and has no desire to go. "I haven't travelled as much as some other musicians in the scene. I did go to Ethiopia for two months when I was 21. I planned to travel around the whole country but ended up staying in a hippie commune in Addis Abeba with other travellers – hanging out and chewing khat."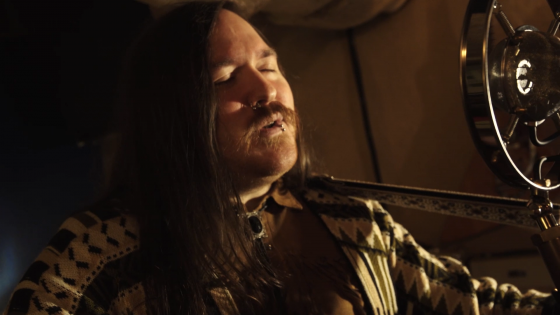 The interest in folk music was always there, but it was a long road to where Mabloni is now. "As a teenager, I thought I would go into social work," he explained. "I had worked in a home for disabled people for two years and then went to university to study social work, but the academic side of it wasn't for me. A year after dropping out, I found an apprenticeship in video and media, and I thought I would learn more about music recording, so I applied. In the end, the apprenticeship had mostly to do with video, and I ended up working as a videographer and moving to Berlin."
Mabloni grew up in Geisenheim, taking classical piano lessons as a child, making a U-turn into punk rock when he was twelve. He learnt to play the guitar, and eventually the drums because their drummer had decided he would rather play the guitar instead. Eventually, he started singing in another band, Die Gribaldies – a rock band that performed with someone in a monkey costume dancing on the stage, throwing bananas and confetti at the audience. "That's where the name Mabloni came from. My band persona was Mabloni Gribaldi – we all had the same last name and called ourselves La Familia, like in the mafia. We all wore suits on stage, too."
But Mabloni had always written songs that didn't fit into any of his band projects, so he started working on a solo act that grew into what he does today. He has worked on his latest album for two years, recording all but a few instruments himself, mixing and mastering most of the songs in his bedroom. He takes out the Bluetooth speaker and lets me listen to one of the songs, called 'A Little Better'. "There's a bagpipe in this," he says and his eyes light up. I had never heard a song before where I enjoyed the sound of a bagpipe, but Mabloni made it work.
I ask him about Isa, his girlfriend, who sings on most of the album and has contributed to some of the lyrics. "We met at a festival," he tells me. "We both worked at the ticket booth – she worked days and I worked nights, and we met in the cafeteria." They had a long-distance relationship for three years, while Isa lived in Mainz, but she has recently moved to Berlin, where she and Mabloni both work on various music projects, including their collaboration Wizard of K-Oz.
Mabloni and I walk to the S-Bahn, and he bids me goodbye as he walks to the station to go to an open mic run by a friend and fellow musician, Conor Kilkelly. "Maybe I'll sing 'Somewhere by the Sea' to promote the single, but it doesn't sound as good without Isa," he says, and I decide that without talking to her, this profile would not be complete.
___________________________
Isabell is the German, metal-loving Joni Mitchell to Mabloni's Graham Nash (only, hopefully, they'll actually stay together). She is a classical pianist, a cultural anthropologist, a rockstar, a bartender, and she speaks French. She has long, blonde hair and blue eyes, and is shy, witty, and talented. "I'm helping a friend with a podcast on extreme metal that he's doing in Spanish. I write the scripts and he translates," she tells me, sitting down at my kitchen table. She's wearing a Judas Priest t-shirt and her hair is still damp from the shower. "I'm doing too many things at once," she says. "Maybe I should commit to something instead."
Isa moved to Berlin five weeks earlier, after finishing her cultural anthropology degree. "I'm still trying to find my footing here. I've found some spaces that I like, such as 'GRRRL NOISY' that organise jam sessions for womxn, where you can make mistakes and you know you won't be judged. At some of the open mics I'd seen in Berlin, everyone seems so perfect that I'm scared I need to be perfect, too."
Because of her classical training, perfectionism sometimes gets in the way of creating music. As a child, Isa took piano lessons with a Russian woman who taught her to sight-read and to play exactly the way you're supposed to. "I played 20-page long pieces by Beethoven, I quite enjoyed it. But classical training is all about playing it like it's written on the page, and there's not much room for creativity. So when you get together with other musicians and they ask you to improvise, you can feel paralysed. Playing with Marlon [Mabloni's real name] has really helped me with this."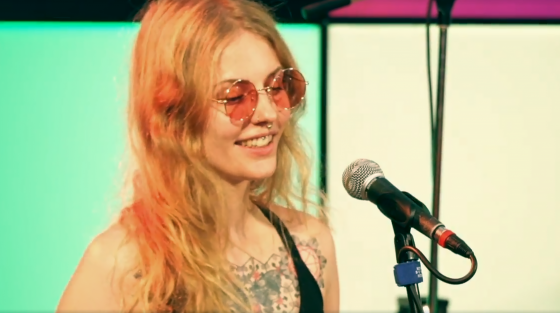 She has always loved other music, though. While playing classical pieces, Isa dreamt of blues and rock'n'roll. "I brought the sheet music for 'Sweet Home Chicago' to class once, hoping I'd learn how to play that kind of music. But the teacher still made me play it very rigidly, and I wasn't allowed to play it in the blues rhythm." She gave her teacher a record of Herbie Hancock to show her what jazz should sound like, to no avail. "She still made me play it her way. But then, when it was time for a showcase and we were playing in a church, I played it the way I wanted to, in a blues rhythm. I was so proud of myself, but I could tell my teacher was not happy with me."
After her classical music training, Isa moved on to singing in a stoner rock band, but she didn't stay with them for long. "It was not really about making music, mostly about drinking canned beer." She also sang in the university choir, albeit no longer than three weeks. "I got kicked out because I showed up late or didn't show up for rehearsal at all. But come on! It's a university choir! Students are supposed to be flaky!"
Over rosé brewed by Mabloni's uncle, we reminisce over our childhoods. Isa attributes her eclectic music taste to her father. I remember how my dad had first shown me The Who, and she exclaims: "Mine too! He knows everything about music – what guitarist played in what band, what year an album was released…And yes, he was the one to introduce me to The Who as well."
Isa is not attached to any genre in particular, and when my playlist veers from hard rock to folk, she doesn't bat an eye. She tells me to look up her other project with Mabloni, The Wizard of K-Oz, and I immediately do. I put on 'Caipi in the Rain', a song about camping in bad weather. "It's another one of our cute songs," she admits. The duo has a barrage of sweet love songs that, little by little, manage to restore my faith in humanity. The Wizard of K-Oz is a lo-fi, anti-folk project that reminds me of a more melodic Kimya Dawson. "The gas cooker's working so fine/ forgot to bring salt, never mind/ everything's going to shit/ but I still love you, that's it", they sing.
"We're planning on punking it up. We're just looking for a drummer now," Isa says. She pets the cat and exclaims: "I probably shouldn't touch the cat too much, Marlon's got allergies!" We walk to the door and say our goodbyes, and I give Isa a jar of plum jam that I made while listening to Mabloni's album. Mabloni and Isa's music is perfect for making jam.