Ronstadt Record Co.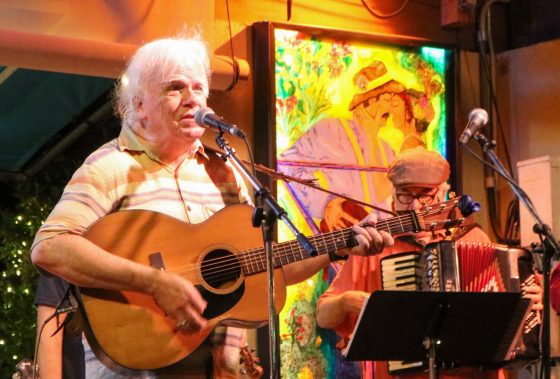 JF: Pivoting here, how was it navigating the uncertainty of this last year?
DA: It was kind of crazy. I was able to get songs out. I was able to get the record played around the world, which was really nice. It was really great to see some record sales generated around the world, especially given the state of the world. Then, you just kind of watch it fade.
Other folks wanted to interview me, as well, around the album release date. Then with other things coming up in the world, it became difficult. I had an interview set in Oklahoma, then Oklahoma's shut down for a year. It's hard to get people's interests back up, especially for a second time.
JF: Right, so much of the news cycle is what's happening same day, and that's the same for music. The pandemic didn't make things easier.
DA: Yeah. I'm hoping now, you know, with the Liz & Pete album coming out, maybe we'll get some stuff together and promote Mother in that way. Caffe Lena is a great start for that. Plus, Liz & Pete get a little tour out of that, and I get to be a part of it for the last couple of dates.
JF: Excellent. You know, Petie (Ronstadt) did remark that you, him, and Liz Cerepanya are the Three Amigos. A happy little Ronstadt Record Company family.
DA: It's exciting, you know? His new studio's structurally done, too. It's now just about wrapping it up—printing stuff up, fixing a few things, putting everything where it's supposed to be. He's talked about rehearsing there and doing great things with new projects. We did a virtual record release party in April for Mother and it was so exciting.
But, after it was over, we were packing up and all of a sudden, it was like, 'This is done.' This has been the center of my life for the last few years, and it's done. I've actually lived for this and I know Petie's a pretty busy guy with several irons in the fire at any given time. I thought, 'You know, this is it.'
Then, he asked how I was doing. I said, 'I'm going through withdrawal.' He said, 'Yeah, I am too.'
He kept coming up with new ideas and projects for down the road, and it continues to be that way. But I continue to be a part of it! The more we've worked together, especially with Liz, it's like the farther we want to take it. It's been great.
JF: Yeah, I think Petie has a certain reverence, or respect for you. Like I do.
DA: It's something I didn't expect, you know. It was his dad's project originally. Papa Mike was intent on getting me into the studio. He came to almost every show that I did, which was surprising since he didn't go out that much, especially to see the local people. Yet, he was animated and excited about what I was doing.
I was dealing with Victoria's death at the time. It was like I had to jump in with both feet and sing for two people. What made it work was—I knew she had a certain joy in her voice that you could feel came from the very essence of her being. She had this spirit in every note that she sang, and you felt that. I told myself that I didn't want to find her spirit in what I sang—I wanted to find mine, because I knew they were related.
I just started to sing out. I never liked my own voice until, one day, just a couple of years before she died, Victoria said that she had really fallen in love with my voice. She never lied to me. She was always honest
I was writing all the time and I was measuring my progress, working with this whole situation. I was trying to tell a good story in what I wrote. Writing a good song is like telling a good joke, you know—it's in how you tell it, how you word it.
And there was Papa Mike there, just egging me on. I didn't know Petie at that point. We talked a few times, but he was a hard guy to read.
JF: I hear he was a shy guy when he was younger.
DA: Yeah. And when you think about him being in a punk band back then—does that shyness really go with that? [Laughs]
Papa Mike and I did a gig together and just had a great time. We went to set up the gig and Petie had already set it up for us. I'd say that cured Petie of that. He had even given me his little PDI and came back after he was done with his own gig.
I remember singing a song during that show called 'One Precious Word', sort of a bluegrassy kind of song. That's when Petie came in really excited saying, 'I hear tuba on that. I hear drums. I know exactly what I want to do with that song.'
…And of course, that was a song that got cut from my album. [Laughs]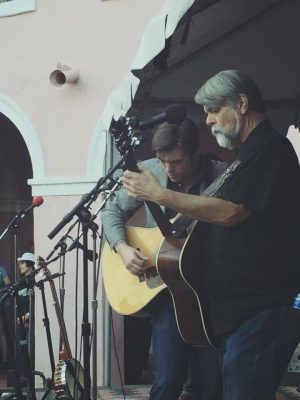 JF: Would you say that was a fair cut?
DA: Yeah. At the time, the record was going to be kind of a more retrospective record. 'One Precious Word' was about the first plane ride that I took after Victoria died. It was a pretty 'up' song and it was one of the first experiences I had without Victoria. It was like a kid going to kindergarten for the first time.
Carol, Slim Rost's wife, was going to take me to the airport and walk me through everything. I hadn't been on a plane in 30 years because Victoria wouldn't fly. So, Carol did just that and walked me up to security and left me there. I somehow took it from there.
The next day, I was just lying there on my side. It was two, maybe three weeks after Victoria died. I had her graduation picture on the wall, which was my favorite of all of her photos. I looked at her and I just very softly called her name. Over my shoulder, I hear her say 'yes' in this really flirtatious way. I just melted.
I knew that, if I turned over, she wouldn't be there. I knew that if I answered, there wouldn't be a response. But, I did both. And it was still like, you get little gifts like that, from her.
Papa Mike took sick not too long after that. Everything with the album was put on hold, and unfortunately Papa Mike died later that year.
Later on, though, Petie said, 'Let's have lunch and talk about year record.' I was prepared to say, 'That was your dad's project. You don't have to continue it.' And he says, 'I can't wait to get started.' So, we got started.
JF: Now, the album's done and I think you've developed a really strong relationship with Petie, and Liz too.
DA: Whenever the three of us sing together, it just seems like we're all really enjoying it. Having them both on board for Whiskeypalians stuff has been a joy. My regular bandmates are all really impressed.
JF: Petie's a great instrumentalist. It's a treat seeing him try out different rhythms on his stomp box during your usual Whiskeys sets.
DA: He always finds something that's kind of different, and it fits in beautifully.
JF: Liz is such a masterful vocalist, too.
DA: I was amazed at how well she does on Victoria's song, 'Texas Spring'. I actually made a mistake one night because I was so busy listening to what she was doing.
I was a little uneasy about having someone else sing one of Victoria's songs, but she made it her own. Her voice is just so beautiful and organic. A lot of people try to make it their own and it's like, 'Okay, you can stop making it your own.' [Laughs]
JF: Not a lot of Tucson singers have such gorgeous command over an alto, either. There's such a natural warmth to what she's doing. I think her and Petie together pay homage to a lot of the folk duos you'd see at Caffe Lena while you were coming up in it.
DA: Like Ian and Sylvia—you got it.
JF: Right. And Jim and Ingrid Croce, and so on.
DA: I remember watching very early Ian and Sylvia performances. It was obvious that they practiced a lot together and it's obvious that Liz & Pete practice a lot. It shows. They come up with these little nuances in their songs that just make the whole thing.
JF: One of my favorite songs that you three do together is 'Who's Gonna Shoe Your Pretty Little Feet'. All of the facades come down at that point. It's just singing for the pleasure of singing—and if the audience is paying attention, then they're lucky.
DA: At some point, it's broken down to just the vocals.
JF: Yeah, and those harmonies are very, very on-point.
DA: 'Cotton Mill Girls' has that same sort of Rockefeller thing. Petie and I had the idea to lengthen the very last part of the song, where we all jump up a notch and take it home with a cappella.
There's been so many moments shared with them already. We had an official CD release show at Hotel Congress. Liz and I started to sing 'Annabelle Teaching Her Daddy to Dance', then Petie jumped up on stage and started singing the third part. I just fell apart inside. It was so beautiful.
It's like Petie's always training at bootcamp. We got to do that record over and do that song differently.
And you know, Petie is one of the most innocent people that I've ever met, like Victoria was. He's always experiencing his art for the first time. That's somebody who has some awakened consciousness.