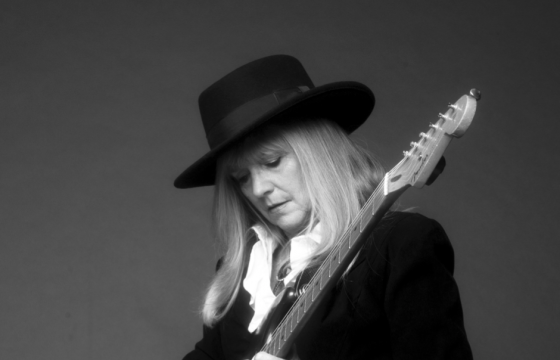 Based in California, Nancy Wenstrom delicately crafts country blues that wouldn't be out of place in the Heartland. With her heartful vocals, Wenstrom commands haunting melodies with ease. This is wholly felt on her latest single, 'Alabama Song', with its yearning, acoustic sway, and in the organic, electric blues of recent release 'Vintage Tears'. Through her stirring, soulful music, Wenstrom communicates stories of love and heartache with a nostalgic tinge—she's a classic.
'Alabama Song' is available to stream and purchase now.
Please tell us a bit about yourself. Where are you from and how did you get started in music? Any defining moments along the path to present day?
I was born in Houston, Texas but because my dad was in the US Air Force we moved a lot, about every 3 years. I lived all over the USA, Nebraska, California, Washington DC, and went to high school in Alabama. I came back to California to go to College at UC Berkeley and have lived mostly in California my entire adult life. I started playing piano at the age of 8 and guitar from the age of 12.
I had my real inspiration to play the electric guitar at about 20.  A friend played "White Summer", an instrumental by Jimmy Page, on the acoustic guitar.  In that moment I knew the guitar would be my life.  I bought a Gibson ES 335 and never looked back.  I wood-shedded the instrument for about 2 years.  That's when I joined my first working band and began playing music for a living in nightclubs, mostly in northern California.  I had always wanted to write and play my own songs like my earliest mentors, Bob Dylan, David Bowie, Jimi Hendrix, Joni Mitchell. 
However in order to make a living playing music I played cover music.  When you learn from the best playing night after night you can't help but have some of it rub off, right?  James Brown, Aretha Franklin, The Eagles, Fleetwood Mac, The Commodores and Steely Dan became my teachers.  I also played lead guitar in a very popular SF Bay Area band, The Zasu Pitts Memorial Orchestra. It was a 14-piece band that paid tribute to all the great Motown and R&B artists who sang and wrote some of the best songs ever.  I've played in blues bands and country bands, and have led quite a few original bands of my own to play songs I've written and co-written.  I've done many trips to Nashville (slept on friends' couches), where I played songwriters nights, the Bluebird Café, peddled my songs to publishers, did workshops and learned a lot about the craft of songwriting.
I've owned some amazing rare guitars and amps but that's another story. I've been around great musicians my entire adult life and in that regard I have been very blessed to learn from the best. I've always loved recording in the studio and hearing my original songs take shape that way. Through it all writing and recording my own songs has remained my biggest passion and inspiration to continue on this musical path.
As an artist, how do you define success?
Success takes many forms, but being recognized and respected by my peers is definitely at the top of the list. To have people whom you respect say how much they like and appreciate your work is the best form of flattery I know, and can keep you going when nothing else will.
I've never known much monetary gain from my own music and that would be something I would like to see happen. I've made a living playing other peoples music and that's great, but success to me would be to do that with my own music. I've always wanted to turn on my car radio and hear one of my songs playing, or in a restaurant over the speakers. To go into a club and hear a band covering one of my tunes would be really awesome, since that's where I came from.
Also, when someone tells me my song has really touched them in a special way that feels like a huge success. It is so gratifying when my original music can make that connection with people. Having had a career that makes people smile, dance, sing along and enjoy themselves, no matter what music I'm playing, has been a form of success for me. Music can be the best medicine.
What do you find your greatest struggle to be when it comes to the music business?
I would say the greatest struggle is to stay inspired and keep going when it isn't clear what the next steps should be. This can be true either when working on a project or in between projects. Another big challenge for me has been to book my band for shows that feature original music. I know there is a whole world out there for that sort of thing but I am just now trying to figure out how to access that.
Also in terms of promoting my music the business is a moving target, always has been, but especially now when everything is technology driven.  This last year has been a huge learning curve for me to understand the business, set up all my socials, keep things up to date, and decide my priorities.  It's a challenge to make time for music when trying to come up to speed with the business end of things.  And of course we don't know just yet when and where the live music scene will pick up again.  But somehow I've had the drive to keep going because I love and believe in what I do and it's such a part of me.
What do you think is the most realistic goal you can achieve as an artist and as a band? What do you hope to achieve?
I would like my music to continue to more get airplay and press, and do some touring to promote my new album. I'd like to tour in Europe, especially play in London. I'd also like to tour in the USA, probably California, the Southwest and maybe the south, as my music is well suited to all these regions. Canada and the Northwest would be great places to tour as well, in the summer! I'd love to get my music placed in films and television. I have a few contacts for licensing and I am in the process of pursuing those avenues as well. I would like to do another album after this one with songs I already have, and keep writing and recording as long as I can. I'd like to monetize my music enough to support my ongoing projects.
Outside of music, what do you like to do that you feel contributes to the creativity that you tap into for your music?
I love nature and I find a lot of inspiration there. I get ideas when I'm taking walks and when I'm swimming laps, both very meditative activities for me. I love going to places like Monterey Bay, the Redwoods and Yosemite. Nature seems to be the best place to clear my head to reach into those areas of my brain where thoughts, memories, emotions, feelings and fantasies are stored.
I find inspiration and ideas when I'm driving long distances. I do a lot of journaling, almost everyday, and that's like meditating on paper. I also find inspiration when I sleep and have often woken up and written songs and lyrics as a sort of a stream of consciousness. Yoga helps too and even cooking. I love cooking in what I call my Blues Kitchen. Anything that relaxes me seems to help my mind wander to places where creativity is activated.
I like watching films, especially when they are based on true events, and reading about or listening to other people's stories.  That has been a source of inspiration for quite a few of my songs. 
Words by: Jonathan Frahm