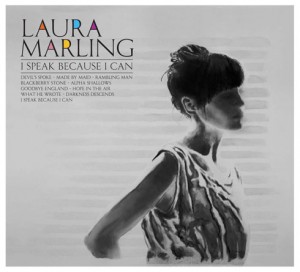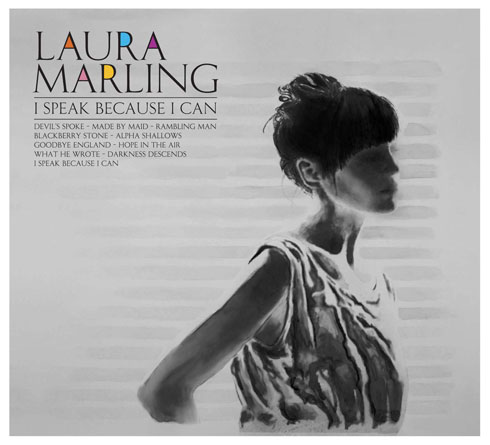 The striking portrait used as the artwork for Laura Marling's recently-released album I Speak Because I Can was painted by Sophie Milner. A post-graduate student in Fine Art, who has also provided artwork for Mumford and Sons. We fired some questions at Sophie to find out more about the woman behind the artwork.

For Folk's Sake: How did you end up working with Laura Marling and Mumford & Sons?
Sophie Milner: I met Marcus when he was studying in Edinburgh, and we remained good friends after he left. It all began with some t-shirt designs back in 2008, when they were just starting out. I met Laura a bit later through mutual friends. I began doing artwork for her after she asked me to do a piece for the programme of the 'Laura Marling and Friends' concert at the Royal Festival Hall this summer.
FFS: Are you a full time artist?
SM: I'm doing a Masters in Fine Art at Edinburgh University at the moment, so I'm fortunate enough to be able to be making art full time at the minute. The artwork that I do for musicians is a refreshing break from my other artistic pursuits, as it's all about reflecting the music it lets me enter a different headspace.
FFS: Who are your favorite artists and who or what influences and inspires you?
SM: I'd find it hard to pin down names of artists I'm inspired by, as they are constantly changing. But one thing I know for certain is that in consistently drawn to certain atmospheres that can exist inside a work of art, music or writing. It's an intangible mood of a work that I'm interested in. It's there in the music of Leonard Cohen, the paintings of Hieronymus Bosch and the poetry of Rumi. If it had a key it would be A Minor…
FFS: Are you from an artistic family?
SM: My mother is very artistic. She used to make me birthday cakes that could pass as sculpture. My father is very musically talented but he can't draw a stick man. He got me into country and folk music. We often play and sing together when I'm back home. He taught me all the real folk classics and what the 'dustbowl' is. He collects rare acoustic guitars, we joke that the house is full of coffins as his guitar cases end up behind every door.
FFS: What is your music taste like?
SM: I listen to more old music than new. Hank Williams, Eric Von Schmidt, Joan Baez… oh and I'm a big admirer of the more avant-garde types like Tom Waits and Buck 65. When I'm working I go through a lot of music and Radio Four.
This was the first vinyl cover I did for the boys. It's an ink drawing, inspired by 19th Century Woodcuts and pastoral vibes. Marcus used to joke that the shepard in the drawing was the imaginary Mumford of Mumford and Sons. For the back of the vinyl they asked me to draw the view from Ben's farm in Devon, where they often went to stay to write and record.
This image is an oil painting that I did especially for the cover. Based in London, they've always had a love-hate relationship with city life, the anonymity and shallowness their music stands against. The crowd became a metaphor for this, and the cat represents their ability to adjust to their environment yet remain inherently different. The cat also appears on Love Your Ground, stealing away with a bag on his shoulder.
This is an etching based on images from Love Your Ground, commissioned for the bands first America tour. I wanted to create a t-shirt that didn't scream out MERCH like band t-shirts often do, something vintage looking and more subtle. T-shirts are possibly my favourite piece of clothing ever created. That said, it's amazing how difficult it is to find good ones.
This was the first piece I did for Laura. She wanted something special for the front of the program for the night, based upon the idea of a family tree. It's a close-knit scene, and Laura's always been really amazing at bringing people together.
There is something quintessentially English about the song, and I decided to incorporate watercolour into the drawing as it's a medium traditionally associated with the English landscape.
Laura commissioned me to produce a drawing based on her and her music that a hundred limited edition screen prints were to be made of. I drew upon Art Nouveau poster designs for inspiration, giving it a surrealist twist that her lyrics often take. I wanted to create something that was classic and feminine, and depart slightly from the graphic harshness posters often have to something more ethereal and nostalgic. It's a pencil drawing and shall be hand screen-printed in half-tone sepia, like the colour of old fading photographs. The prints are soon to go on sale on her website.