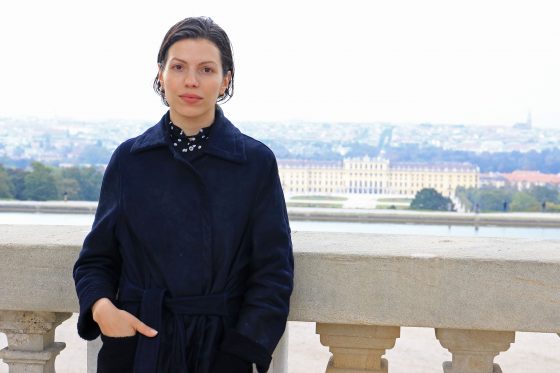 "Stubenhocker? How do you say this?" Anja Plaschg searches for the word while needlessly apologising for her English.
Homebird?
"Yes," she agrees. "I'm a homebird."
As she prepares to release her third studio album as Soap&Skin, we've asked Anja to show us around her home city of Vienna to try to get a sense of where her remarkable music comes from.
As the former home of Mozart, Beethoven, Schubert, Brahms and more, Austria's capital is known the world over for its rich history of classical music and opera.
Its imposing city centre, dominated by the towering Stephansdom cathedral and the ornate Hofburg palace, can seem like a museum at times, and teems with tourists throughout the seasons.
But that is only one face of the city. Step outside the picture-postcard first district and you can find a different Vienna, one that is home to a thriving electronica scene and aspiring indie bands.
Then there is Soap&Skin. You cannot comfortably fit Anja's music – which draws on church music, classical, folk, electronica and more to produce something entirely unique – into any box.
"I don't belong to any scene," she said. "I'm a bit of an outsider."
A homebird, in fact. One who thrives on working alone, anonymous in this bustling city.
Ahead of the release of her new record From Gas To Solid/ you are my friend, we'd asked Anja if she could pick out a handful of locations around town to show us – places with a particular meaning to her where she can draw inspiration.
She could be our guide to alternative Vienna, we thought, seeking out quirky spots to contrast with the overly familiar chocolate-box images we're used to.
Forgive our surprise then when she starts by taking us to the Gloriette. This grand folly stands in the formal gardens of Schönbrunn, the summer palace of the former ruling Habsburg family, and it ranks as the number one tourist attraction in all of Austria.
If you're looking for alternative Vienna, this isn't really the place to look.
"But it's so beautiful," Anja says by way of explanation as we walk between the towering trees and up to the staircase, and there is no way to argue.
Even on this slightly gloomy October afternoon, the view down to the palace is stunning, a reminder of Vienna's former status as an Imperial capital with all the wealth and trappings that went with it.
"I love the view," Anja said. "And I love the cafe. It does amazing cake."
Cake might actually be a reason to visit Vienna in its own right. The Sachertorte – a rich chocolate cake invented in the central Hotel Sacher – is perhaps the most famous, but this city's multitude of coffee houses all serve an array of delicate waistline destroyers.
The Sisi Torte, a chocolate cake topped with red currant marmalade and marzipan named for the former Empress, is Anja's favourite, even if the prices at the Gloriette's cafe are almost as extravagant as the building itself.
She has become a semi-regular visitor but only recently, having moved to a neighbouring street last year.
That move is just one of a number of major changes in Anja's life in the six years that have passed since her last record, 2012's Narrow.
She became a mother and began working on other projects, scoring films and theatre productions.
"After the last record, I had no clue if I would ever make an album again or what happens next," she said. "That is the reason I wanted to do something outside of my own work, to work with people in a theatre, to do something that was not just me in the spotlight.
"Of course motherhood has changed me. But I won't say this album is about that. That's not the case. It really changed me of course but it doesn't change the way the music is coming to me and how I create. That's still the same from the time I started."
Wherever it came from, From Gas To Solid… feels like Anja's most optimistic record yet. There is the light touch of 'Italy', the radiating 'Heal', and playful moments, like what appears to be the sound of children's toys at the very end of 'Falling'.
No less intense than its forerunners, there is nonetheless a different feeling, something lighter and more buoyant.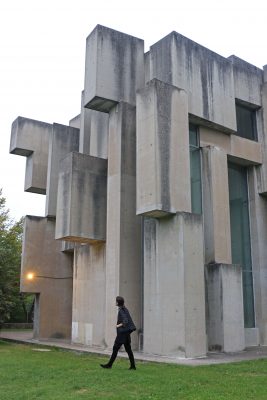 Back in the taxi, we are bound for stop number two, and this time we're definitely heading off the beaten track.
The Kirche Zur Heiligsten Dreifaltigkeit – or Church of the Most Holy Trinity – sits in Liesing, a leafy residential district far from the city centre. Better known as the Wotruba Church, this remarkable piece of brutalist architecture was designed by sculptor and architect Fritz Wotruba, who died before its completion in 1976.
It is a far cry from the imperial stylings of the Gloriette, but just as beautiful to Anja.
"When a building can touch you, that's so weird," she says. "This is one of the very few that really makes me emotional when I see it."
The place is deserted when we visit – the church locked up and no sign of life even in the part of its grounds cordoned off for renovation work – so clearly few people agree with Anja's take on where this ranks in the list of Vienna's finest places of worship.
"I would choose this one over Stephansdom," she said. "Though maybe not from the inside."
If this is a bit more like what we had in mind when it came to seeing a different side of Vienna, we can't help but notice that in her first two locations Anja has chosen to show us both sides.
What does that say… "about my personality?" – Anja finishes the question for us.
"I've never been into the tourist thing because I'm not living in the city centre and I'm a homebird," she said. "I don't have that much contact with the touristic thing. But when I do go in I get into that, I quite enjoy the feeling of what they are trying to represent in their cafes and these old buildings.
"But it's not everyday life. That's why I can enjoy it sometimes. And it's also a place where I can be anonymous."
Like the Gloriette – a place she has only recently started visiting – the Wotruba cannot qualify as a regular spot for Anja, who admits she has only ever once been before for a photoshoot.
The location was her idea – an excuse to visit a place she had heard of but never seen.
Where we'd asked Anja if she could show her places in the city that inspire her music, the truth is she cannot tell you where it comes from.
"It's just living," she said. "The thing is I always need to collect is life."
Most of her work is done at home, where she can be alone with her ideas.
"It's very strange," she said of how music comes to her. "I don't have a principle, it's always different. But often when I start a song, mostly I start in the middle or at the end and then have a problem to find the beginning.
"Lyrics are the most difficult part for me. They mostly come at the end."
If the music comes to her as simple melodies and rhythms, these are just the basic sketches on to which she applies thick layers of instrumentation.
"I have the feeling that I want to say much more with the instrumentation and the sound and the arrangement," she said.
"The language has to give it a form but I have to find the balance and not say too much. I don't know if this is just my personal thing."
Most times, plotting out that instrumentation comes relatively easily for Anja despite the seemingly endless possibilities she affords herself in her music.
"This is a gift for me, it goes so easy for me because I have many friends who are musicians and this is the main problem for them," she said.
That does not mean it always mean it comes quickly.
A case in point is the towering centrepiece of the new record, 'Surrounded'. Light and dark at the same time, the song seems to lift the tension even as the sound grows more intense over the course of its four and half minutes, fully unfurling when Anja unleashes her powerful voice at the midpoint.
Finding that balance took over a decade.
"I wrote the song 12 years ago and I was playing it, but really it was a different song," she said. "I played it live, but just a piano version. I only played it live and I never hit the notes. Really it was a disaster.
"I really wasn't sure where this song would go. I knew it wasn't ready but I also knew I just hadn't found the right point yet. It was such a triumph to get there."
The Wotruba may be an unusual example, but a church is a fitting place for Anja to bring us.
Some of her earliest musical memories come from the church in her hometown of Poppendorf.
"I'm a farmer girl," she says. "My parents didn't listen to classical music or anything like that, but my father was very passionate for music. He played guitar and he sang in the little church choir at home.
"I grew up quite Catholic but when I was older my parents were getting more away from it. But going to the church, the music there definitely had a great impact on me. I just really liked it.
"And when I was eight it was a huge thing for my dad that they had the Heidelberg orchestra come to play a symphony in our little church. He said I should go with him. I was very little.
"He was nervous and excited that this was happening in our little town and it really blew my mind. I remember very well how it felt for me to hear such big music for the first time."
Church music continues to influence much of Anja's own. On the new album, it permeates tracks like '(This Is) Water' while it can also be felt on the more dazzling 'Falling' – an exuberant instrumental which feels like a release of emotion.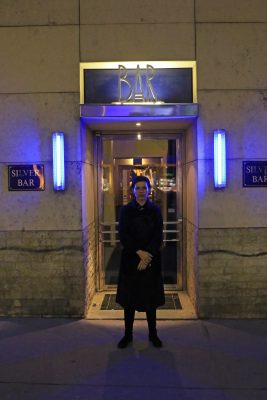 Back in the taxi, our driver seems to be getting a little anxious about something as we head to the final stop on the tour.
We're short on petrol, it seems, and so pull into a filling station.
"Is this the next stop?"
"Oh yes," Anja jokes. "I wanted to show you my favourite petrol station."
We're actually heading to her favourite bar, back towards the centre of town. With the destination set in the vicinity of the Naschmarkt – Vienna's food market which is surrounded by quirky eateries and bars – you might expect a cosy little local or a hip bar.
But Anja has different tastes to most. We're instead heading for Das Trieste hotel and its Silver Bar.
Hotel bars are not usually for locals – transitional spaces for those just passing through.
The Silver Bar might be a slight exception given its award-winning cocktails, but a transitional crowd can be exactly what Anja is looking for.
"I'm not the type that goes to big parties," she says. "I avoid it when it gets very crowded, the cool bars where everyone is. I like it where you are completely anonymous."
There is that word again – anonymous.
On record, under her nom de plume, Anja makes soaring, powerful records. In person, she is quiet, understated, not interested in making a big impression.
Is she just shy?
"It's weird," she says after a pause to think. "I don't know if it's really shy because in my relationships with people I'm really not shy.
"I just can't deal with small talk, making a show and dressing up to be cool."
What Anja has to say to the world comes out in her music.
"Maybe it's a little simple to say," she says. "But maybe it is because it's so personal what I'm doing and I'm willed to show whatever there is, to show everything, but it's just in the music.
"But also sometimes personal isn't the point. Sometimes I feel like I have nothing to do with what I'm doing because it's the feeling that I'm just something that it's coming through, that it doesn't belong just to me."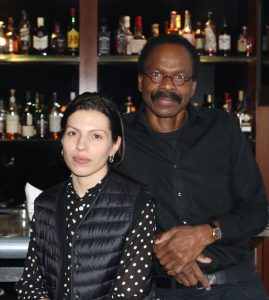 We've settled into a small booth in the bar, and Anja lights up a cigarette before the bartender, Keita, comes over.
Keita is the man behind the Silver Bar's award-winning reputation and part of the reason she keeps coming back.
"He makes great drinks, but he also puts the feeling into the bar," says Anja, who visited the night before we came just to check he'd be working.
After insisting she would usually pluck for a whisky sour or an old fashioned, Anja – who neglected to eat lunch – settles on Keita's latest non-alcoholic creation, an explosion of peach and mango.
"This is not the shape of glass I would normally associate myself with," she says as two tall vessels popping with fruit are brought to the table.
As we speak, the days are counting down to the release of From Gas To Solid… It is an album which strikes a more outward-looking tone than 2012's Narrow, capped by the remarkable closing cover of Louis Armstrong's 'What A Wonderful World'.
But its impending release means that, for Anja, the nerves are growing.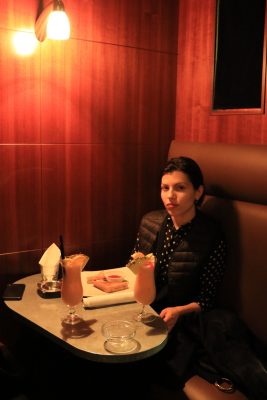 She has already decided there will be no touring until at least April. Her daughter is starting school and there are too many other things going on for her to work on putting plans together.
Touring is no simple affair for Anja given the complexity of her music. Sometimes she plays alone on a piano, but she prefers to play with an ensemble or, on occasion, an orchestra to get the full effect.
She is due to play a launch show in Italy when the record is released, and the thought of it strikes fear into Anja.
"Oh my God!" she exclaims. "Don't talk about it. I'm nervous because I have to do a show on the release date. The ensemble I would love to work with and love to tour with are at a festival in Italy and I have the chance to go there and rehearse with them.
"The show is just a half hour or something but it makes me so fucking nervous because I need to practice."
Playing live, it seems, is not an experience Anja enjoys.
"I really need to stop making myself crazy about things like that," she says. "It's horrible. I'm still so nervous before shows.
"It gets better when I start but the fear haunts me that I won't hit the notes with my voice or I will make mistakes on the piano. Sometimes I have these blackouts and I just forget everything.
"It has happened on stage. People have told me it's touching because it makes it real and makes it human, but it doesn't feel like that when I'm in the moment. It feels like failure."
'Surrounded', the song Anja has taken 12 years to record, is one of the main sources of anxiety.
"It's much more extreme at the moment because of the new material," she says. "I don't yet know how the arrangements will work. I have songs like 'Surrounded' where I really go to the edge of my voice.
"It's something I like to experiment with and have fun with when I'm producing, but when I think about doing it live, I just think, 'Why did you do that? Why?!"
Suddenly all the talk about anonymity makes sense.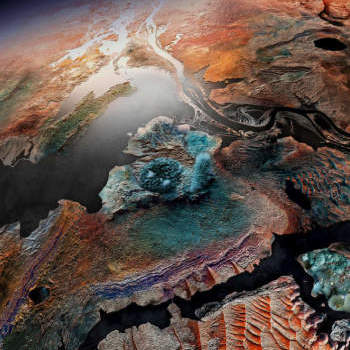 From Gas To Solid… is the first Soap&Skin record not to feature Anja's face on the artwork.
"I had to fight for it," she said. ""It's so strange and I hate it but it's kind of a problem as a solo artist and a woman not to show your face on the cover.
"I really didn't want myself on the cover. I wanted to show something of the process I've been in and what has changed.
"What really changed in my work this time is that it wasn't enough for me just to handle my emotions and be in my emotional state and translate that. I wanted to connect with people and what is going on in the world.
"I was searching desperately for a good world in this process. We were inspired by NASA images of space."
Anja's first two albums received immediate and widespread acclaim, but that brought with it attention and expectations the likes of which Anja was not prepared for.
She admits she cannot help but read her own reviews, but she is not looking to see if she gets praise or criticism, but instead whether she is being understood.
"Sometimes I wish I wouldn't read them, but I'm so interested in how people translate it in their own way," she says. "Sometimes a good review can make me more depressed than a critic if they've not understood it…
"It kind of overwhelms me when people come up to me and say, 'I really love what you're doing.' I will never learn how to really say, 'Oh, thank you'. It makes me feel all strange afterwards.
"It makes me sad and it makes me happy."
Why?
"Because it won't change my loneliness." She pauses, then adds: "Maybe that's a bit dramatic. I shouldn't sound so dramatic. Maybe sad isn't the right word. Maybe melancholic."
We've reached the bottom of our glasses, and the end of this short odyssey around the city of Vienna.
From Gas To Solid… is not an album about a perfect world, but it does seem to be one about the search for it, and a belief that it can still exist. It is a reminder of the beauty all around us – whether it comes in the extravagant form of the Gloriette or the concrete blocks of the Wotruba.
And it is an album which seems to have given Anja a fresh lease of musical life. Not long ago she had no idea if she had it in her to make another record, but now she is sure she has found "new spheres of how to arrange sounds".
"I'm motivated," she said. "I have the feeling I have opened some doors with this record."
Photos: Natalie Marchant and Ian Parker