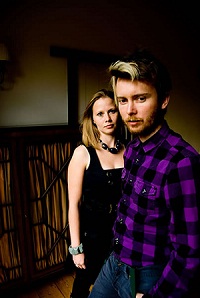 Stu and Debbie Hanna make up formidable folky two-piece Megson. One of the most energetic and innovative acts on the folk circuit, they are touring their eighth, album Good Times Will Come Again. Departing from their trademark of blending their own songs with reworked songs from the folk vaults of history, their latest album is their first to be made up entirely of original songs.
We caught up with them for a quick chat as they get ready to hit the road for a new autumn tour this week…
What are you most looking forward to about embarking on a new tour?
There is always a big build up to a tour for us to it's great when you finally make it out on the road. The only thing we don't look forward to is night-time motorway closures – we had one on every night of the last tour. We think we must be cursed!
Do either of you have any pre-gig rituals?

Stu has a very involved pre-gig hair preparation routine, which involves creating a big mess with wax, then suffocating the dressing room in hair spray before walking around upside down in order to create the largest possible fringe. We are thinking about offering this as service to punters in the interval so they too can have a fringe like Stu's.
How far into your back catalogue are you planning to go on this tour? 
On the tour we are releasing our very first 'Megson Songbook', which covers all eight of our albums so far. So to celebrate that we have dipped into the back catalogue a bit – it's hard now because there are so many fan favourites – you always end up upsetting someone!
Which song do you get asked to play the most?
Probably Longshot, but recently Hope and Old Folk's Tea has come up a lot. Our fans seem to have a wide range of favourite songs, which does make taking requests hard. Particularly if they are old songs with lots of lyrics – and Stu is rubbish at remembering words for old songs!
What made you decide to focus solely on original songs for your album, Good Times Will Come Again?
It's something we've been meaning to do for ages. I'm surprised it took us eight albums. We always get request from fans for more Megson originals so we had to do it. The only problem is it takes us a long time to finish off a song. We had about 100 initial ideas, then narrowed it down before finishing them all off.
Does it feel different when playing songs about topical issues live, compared to older, more historic songs? Is there a different kind of energy?
I think you feel that it is a different kind of communication with the audience when the issues are up to date because they can have more of an emotional energy. And with that comes a responsibility to the issue. You want the song to be delivered well, otherwise you feel you are disrespecting what you are singing about.
See the full list of tour dates at megsonmusic.co.uk
Words: Greg Loades