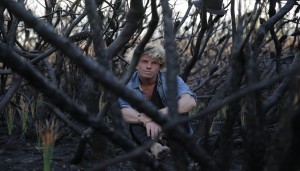 For a man already on album number four and with a support slot with Billy Bragg on tour in his pocket you would think that Kim Churchill is heading into a happy middle age. The fact that he's still in his early twenties says a lot about the work ethic and creative encouragement given to him as soon as he could hold a guitar and the latest result is a record that feels and sounds like a man completely in his element.
I spoke to Kim about Silence / Win and about the roots of his musical adventure and from just a few seconds in got a sense of a man excited and overjoyed by the way his career is headed…
"I'm quite a new thing in England so there's all those really fun but quite exhausting elements of being a new thing and you kind of have to play a lot of shows," he says, "In the live shows department I have a habit of saying yes to everything just because it's my life and I don't really do anything else so I do as many gigs as I can. I love to travel so we've been doing six or seven ferries to Europe in a week and crazy 10-12 hour crazy overnight drives – so it's been a lot of fun!"
Churchill knew from a young age what he wanted his destiny to be and picking up the guitar early on in life helped him to chase his dream. He explains,
"I started playing guitar when I was about six and I think by the time you get to that ten or eleven year old "What do I want to be when I grow up?" stage I was saying "Professional Guitarist" was what I wanted to be. I didn't really know what that meant but I loved the guitar and so that was what I said. I didn't start singing until I was fifteen or sixteen but I was getting serious about classical guitar when I was around ten and that was a real passion – I sat my classical guitar exams each year and did a lot of travelling so by the time I'd finished high school I was ready to give music a shot."
"The guitar was always my thing but when I first started I couldn't write a song to save myself to be honest," he continues, "I had a lot of work to do in that department and I wasn't that great at singing so I was really getting my career started off the guitar playing, doing a lot of fancy, showy guitar playing that works at small pubs but doesn't really make sense in a song."
This work on the guitar has its roots in following his Mum to lessons as a youngster and wanting to do exactly what she was doing. Churchill says,
"I began playing guitar because Mum was having guitar lessons and because I was so young I was being carted along after school and I just hung around and said 'I want to play' so she started giving me the same lesson that she had just got when we were back at home. We did that for about a year and then she bought me a guitar. In the beginnings I was very against classical guitar but it became very helpful and I was fortunate to have two very supportive parents who were all for having a son who may well be very poor but devoted to his art. A lot of parents don't want their kids to do something like that."
New album Silence / Win is out next week in the UK having received high praise since its release around the world over the last few months. But it's here that Churchill really hopes the album goes down well having spent plenty of time on these shores growing up.
"It's the first one (album) that I'm really confident with to take out into the world, particularly to England as for me I'm half English and I came over here a lot as a kid, really picked up on a lot of English music and have a respect for the English musical sensibility," he tells me, before speaking of the influence of a new partner in crime, explaining,
"I worked with and English producer, Warne Livesy (Midnight Oil, The The, Deacon Blue) and he's a genius. It was my first time working with a producer so it was one of these things where I was ready for a collaboration and when he came in what we did ended up making me like the process so much more. I've been learning as well and it seems the more you enjoy it the better it is. We just had so much fun in the studio that when we had done this album I was excited about it so it's just a nice evolution. It's the most fun I've ever had in a studio and I feel like that translates."
There's clearly a constant desire for learning inside of the singer and he couldn't have had much more inspirational a teacher than Billy Bragg who Churchill toured with on the back of last album Detail Of Distance. It was an experience that gave him an insight into not only the world he's breaking into but of a way of holding yourself. He says,
"For a guy my age starting to take my music into the rest of the world there's not a better person to learn a few things off than Billy. He's been doing it for something like thirty seven years and he's perhaps at his most successful point of his career after that long which is quite an interesting and cool version of success."
"Some bands get massive but might only last two years but to still be building at thirty seven years is amazing and I have so much respect for that particular way of doing things. For me at my age it's the thing I want to do for the rest of my life, dedicate my life to it so it was brilliant and really stuck with me and gave me a really good sensibility in how one should carry themselves, how one should treat people, all that kind of stuff. He's a true gentleman."
All of that will be put into practice in the coming weeks and months as Churchill heads out on a UK tour that takes him to even more new places as well as eventually to a supporting slot with another man that will offer suitable tips.
"We have a London show and we're heading up to Scotland for a couple of days and we're also doing support for Seth Lakeman which is again great audiences with someone who I hope will have a lot to say to me as well," he says excitedly, "When they're people like Billy Bragg and Seth Lakeman I think you'd be an idiot as an opening act to lock yourself in your dressing room and not be interested in how somebody like that goes about their day to day and handles their career and handles themselves on stage."
He finishes by talking about a desire to get back to one of his other passions whilst in Cornwall, sayingm
"We're doing a bunch of shows down in Cornwall and I'm a really keen surfer… one of the few things that really bugs me about the life I chose to have is that I very rarely get to surf any more so I'm keen to go down and explore that part of the world. I've heard it's very beautiful…we stopped off very briefly to play Boardmasters Festival this summer and I think it's a really cool place but more than anything what I'm excited about is that a lot of these places are new to me and that in itself is really exciting part of the touring – discovering new places – so I'm looking forward to it all and I'm looking forward to a bunch of things I don't realise I should be looking forward to!"
Kim's new album Silence / Win is out in the UK on October 6th..
Kim Churchill UK tour (tickets here)
October:
1st: Penzance (Studio Bar)
2nd: St Agnes (Taphouse)
3rd: Truro (Speakeasy)
4th: Perranporth (Watering Hole)
6th: London (Slaughtered Lamb)
7th: Brighton (The Hope)
8th: Exeter (Cavern)
9th: Bristol (Exchange)
SETH LAKEMAN SUPPORT DATES:
October:
10th: Tunbridge Wells (Assembly Hall Theatre)
11th: Northampton (Derngate Theatre)
12th: Oxford (Town Hall)
14th: Guildford (Guildford Live)
15th: London (Shepherd's Bush Empire)
16th: Chesterfield (Winding Wheel)
17th: Birmingham (Town Hall)
18th: Gateshead (The Sage)
19th: Salford (The Lowry)
21st: Edinburgh (The Queens Hall)
22nd: Cambridge (Corn Exchange)
23rd: Southampton (O2 Guildhall)