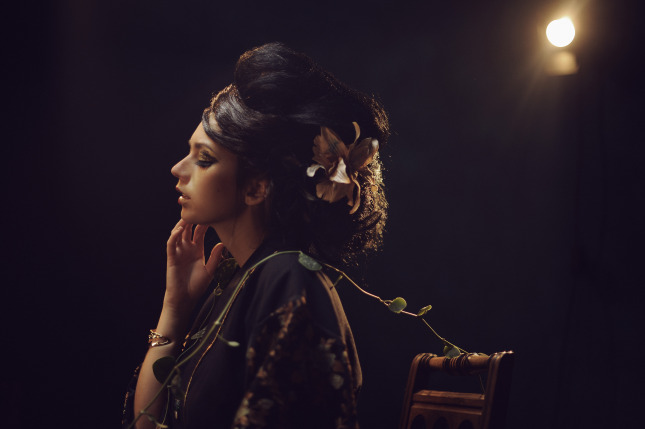 To many British folkies, it may seem as though Cleo T has suddenly burst on to the avant-folk scene in a shower of glitter, silk and French perfume. But this Italian-French demoiselle has been performing her intoxicating brand of Parisian-infused, cabaret pop since 2010, steadily nurturing her craft, unique philosophy and growing fan base with patience and care. Meeting Cleo T prior to the album launch of Songs of Gold and Shadow is akin to listening to the record for the first time – both are beguiling, witty, playful, warm and wicked. She is a diminutive beauty, sporting a 1920s-style headdress, elaborate eye-make up and heels.
Later, during an exhuberant set, she coaxes the audience from the back to the front of the room, effortlessly slipping between English, French and Italian. In short, we've never felt so British, unsophisticated and monolingual – and this is probably a very good thing. Cleo T is testament to the wealth of fantastic music being produced beyond our shores, if only we have the ears to listen. With this in mind, we make a concerted attempt to sound European and knowledgeable, and kick the interview off with a biggie…
Your music is incredibly theatrical and has lots of reference points in early twentieth century European culture – can you tell us a bit about your influences?
So they are…random! I'm really not just a musician – poetry's really important to me, and painting as well. I really figure my music into colours and landscapes… I like the theatre, I like the cabaret of course, I'm a big fan of Kurt Weill and Galina, so I really like also those periods where Paris has been so important for the arts – for example, in the 20s everybody wanted to be French! So I have to say I like the idea of artistic thought more than a musical genre.
It certainly seems that French artists are more willing to experiment and be theatrical…
I wouldn't say that! So it's funny you say that and I'm happy to hear it but everything's always brighter on the other side. In Paris there is a big part given to the text, so they really want you to sing in French, and they want you to say words – which is not my idea, actually. What I like about music is the rhythm. I've been travelling to Argentina and Cuba, and I like this idea of a music you can recognise no matter about the singing. At the moment I haven't been writing anything in French.
Did you start writing in French?
Yeah, and in German also. I love German, it has a real power… What I like about language is the sounds – I'm an instrument and my speaking is not in the meaning of the words but the things I'm going to do with the note and the word… The surrealist writers, they wrote very funny manifestos saying, 'A real poet, we should forbid him to write in his own language because he can't be free', and in a way it's true. It  doesn't mean that you won't come back to it and be able to re-enchant your own language.
And you have so many languages to experiment with – French, Italian, German…
Yeah, but actually I don't really care! To me, language – speaking well – is a very modern, bourgeoisie idea. The point is to communicate with people, to enter into a new world. I will sing in German no matter what they think about my accent!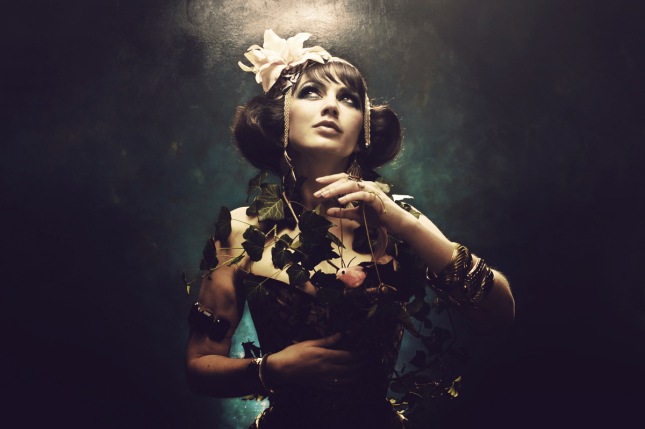 So apart from your voice, what instruments do you play?
None! I hit a piano. I didn't have the chance to study music so I can't really play. I have my own relationship with my piano and it's a friend, but I don't pretend… I play the autoharp as well because it's an instrument for the singer. I have a lot of ideas for arranging music but I need to have the good musicians to do that. I only play with very talented musicians because that's how I can come with all my ideas and they can translate it. I decided to take this as an advantage, I'm an outsider, you know?
Style, image and costume seems very important to you too?
Absolutely, because I can't really speak in musical words when I speak to the musicians, I give colours and images and short movie scenes…it's very hard to describe a feeling. The German are very good at that, they have this word, der Stimmung – something that catches and melts into one feeling. It's the whole, so of course the way I'm going to be dressed for that clip or music video is important.
Could you ever imagine performing in jeans and a T shirt or some trackie bums?
I don't know, maybe! Actually, I wear trousers since two years and a half. I never did before! My mother is from Italy, so it's like – high heels! And I like that, it's a kind of theatrical position. I've' been working a lot as an actress in the theatre in Paris, so you realise that the way you're feeling your clothes, the way people look at you, it means something. Everything is meaningful! So yeah, I could play a show in a bathing suit if I wanted to make a point of this.
Let's talk about the album, which you recorded with John Parish [PJ Harvey, Eels, Jenny Hval, Tracy Chapman] – what was that like?
It was fantastic because he's a great artist, he's a great musician and great person. For me, it was obvious that I was going to work with him. He didn't know that but I decided! But when it came to the moment when I said, 'Shall we record it?' he said he was so sorry but he was working on Let England Shake with PJ Harvey. I was so disappointed! And then in June I was in Milan waiting for the train to Paris, and I saw this guy and thought, 'He really looks like John Parish.' And it's John Parish! So when we arrived in Paris I woke up really early and I jumped out of the train and I saw him and he was like, 'What are you doing here!' We laughed, it was completely absurd and crazy, and by this accident we were in the studio two months afterwards.
What's happened with the album since?
Today it's a long fight to release a first record when you are not doing very catchy electronic things. We recorded this album two years ago, and I didn't want to just let go because it meant so much to me. These days you have to fight because it won't come to you just like that [snaps fingers], and actually I don't think that's a good idea…The idea is not to be at the top of the charts but to make a first step, to have a better team and exposure for the next one. When you do that big single, it's tricky, it's a deal with the devil actually, whereas I think if I do it this way I'll be free.
What are you writing about now?
I'm trying to give the right words to an image or a feeling. It's a psychological thing also, like being in therapy. It's interesting because it's what I do without paying someone – I'm going into that blind date with myself and I don't know what's going to come out. I'm very close to the power of life, of nature, and I have that kind of obsession which is to see the things behind, and sometimes you can catch it.  Maybe next I'll be a new animal and I'll be inspired by very different things! I like the idea that we can change.
Songs of Gold and Shadow is available now on Folkwit Records