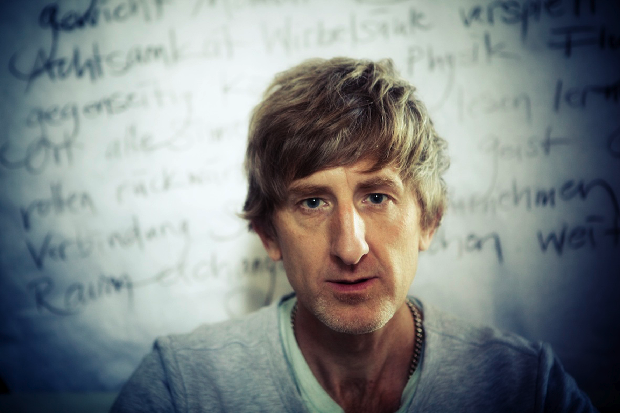 If there was any justice in the music industry, Conrad Lambert – AKA Merz – would be weighing in at the top of every Best of 2013 list. That's not to diminish his very real achievements over the years, which include four critically-acclaimed studio albums as Merz, the last of which – No Compass Will Find Home – was named Album of the Week by The Sunday Times. Add to this a plethora of diverse and challenging EPs and a devoted following of critics and fans who are surely scratching their heads and wondering why everyone in the universe isn't getting it.
On the plus side, the lack of a permanent spotlight on his music has allowed Lambert to develop an independent, experimental psych-folk sound that ranges from straight-up, acoustic ballads to rockier numbers or multi-instrumental soundscapes. Consistently eschewing convention, this year saw Lambert performing a show based around one song, 'Many Weathers Apart', and working with drum virtuoso, Julian Sartorius, to reinvent No Compass Will Find Home. An interview couldn't be longer overdue…
Why did you decide to have No Compass Will Find Home reconstructed?
It was just a naturally occurring event; Julian Sartorius played all the drums and percussion sounds on the original. At the same time he was working on an epic project where he recorded a multi-tracked beat every day for a year, no matter where he was in the world, called "The Beat Diary". During the course of this year he'd developed an ultra-unique sonic palette. We talked about the idea of morphing our respective albums and Julian came up with the modus operandi – drums and voice and nothing else, no loops or electronics.
Has it revealed things about the songs you weren't aware of before?
On some of the songs Julian's enhanced the existing mood, like 'The Hunting Owl', which he's made super-claustrophobic. On 'Goodbye My Chimera' he has created a complex cross-rhythm, a kind of rhythm within a rhythm which, for me, suits and locks into the phrasing of the lyrics better than my original beat.
Did you have much input over the re-imagining or was it all Julian's influence?
Julian conceptualised the album and set the creative boundaries and recorded all the percussion and drums himself. At one point I was surprised that he'd decided to use the vocals exactly as they appear on each song…We worked together on the vocal mixes and we kept some of the vocal processing that Matthew Herbert did on the original but apart from that I just followed Julian's wishes. I think it works especially on a deep level, in part because of the primitive elements and the lack of glitz and tricks.
You've moved around a lot over the years – does this, and your habit of reimagining work, reflect a dislike of staying still? I'm thinking also of the improvisations on 'Many Weathers Apart.'
Yes probably, I mean, it seems really obvious to me that life is motion, not standing still, ever advancing, ever evolving. Life and art. Why stay in one place, there's so much yet to see and so much to do? I guess financial security has everything to do with people's instinct to stay put, but while you're busy establishing security, you miss out on living. Not everyone wandering is lost.
Why did you decide to perform a concert based around one song?
I was listening to a remix of 'Many Weathers Apart' by Francois Kevorkian ('Underwater Dub') and I thought to myself: I could listen to this for ages. Then I instantly thought of the idea of playing a gig with the one song – just as a challenge, to see if I could make an arrangement that could be engaging for a whole gig. Also, I had a dream band: Shahzad Ismaily, who is a super-prolific musician from New York, and Julian Sartorius. Both of these musicians have had much experience doing improvised concerts so as long as I created a good set structure I knew the rest would take care of itself.
Your records have always received rave reviews from the press, but your popularity and profile have built fairly slowly. Was this intentional?
Maybe subliminally. But not intentionally. I think often when you see an artist rise above the crowd there's also a really good team working behind the scenes. I've worked with many different people in the UK music industry, good and bad, and momentarily had some successes but possibly not had that kind of solid team that it takes to really roll.
Do you feel content with where your career is now and what would you still like to achieve?
It seems like the harder it's become to make a living in the music business, the more interesting and fulfilling it's become for me. It's that equation again: money equals conservatism. I feel so fortunate to have survived somehow as a professional songwriter for so long. But every turn is an unknown, no security. A life creating art or music can't be measured against any other career. It's more a life choice than a career.
You were brought up as a Baha'i and have said that you still adhere to this faith. Does it influence your music or your attitude towards the music industry? I ask because Baha'is are known for their tolerance and patience!
I'm relatively weak on both tolerance and patience, not very graceful in that respect! But yes, I do adhere to the Baha'i teachings. I try to have an all encompassing approach to life and music and song-writing. I'm really interested in science and how things in the universe and in society work. I believe religion and science should be in harmony. Both are truth searching.
Do you know which direction you will take next, musically?
Yes, I've got an inkling. I have about eight songs finished which all focus lyrically on one subject, and I have five songs on the go which I've been writing with Shahzad Ismaily. I've written a track with acclaimed Bernese poet/rapper Kutti MC for his next album. There's also a bunch of 'pop songs' that I left off No Compass Will Find Home that I'd like to do something with. And right now I'm playing shows with a spectacular drum ensemble that Julian Sartorius got together in order to perform live the No Compass Will Find Home – Drum & Vocal Renditions. We are playing a bunch of European dates over the next few months, so, if we can find the opportunity I'd like to get this show over to UK next year.
No Compass Will Find Home – Drum and Vocal Renditions is out now on Everest Records/Accidental