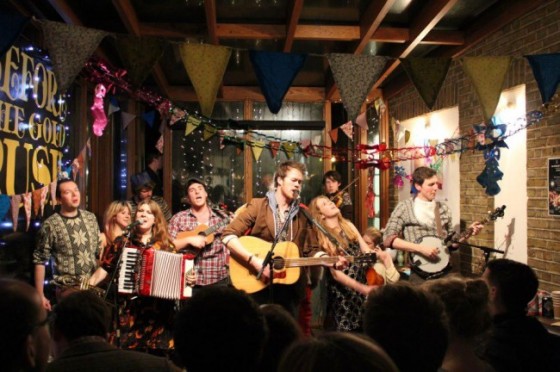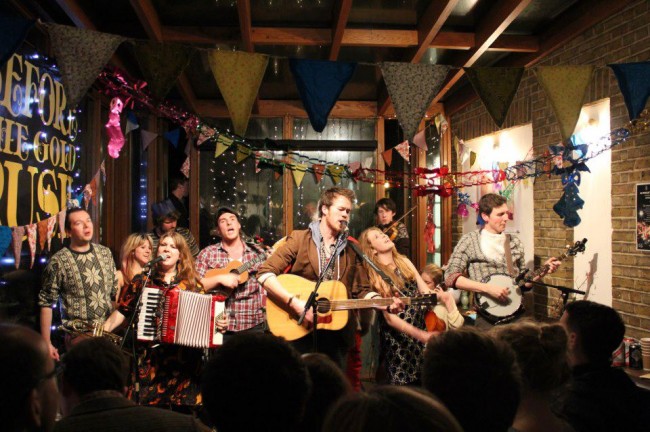 Patch & the Giant open For Folk's Sake it's Christmas 2013 with their rousing version of God Rest Ye Merry Gentlemen. The band's accordion player Angie Rance answered our questions and roped in fiddle player Gabe and bassist Ed too.
Can you tell us what inspired your choice/the song for the record?
We wanted something which we could pour our spirit into and it just seemed like the perfect song for us. Though there are a billion arrangements out there we quite relished the challenge of coming up with an original version.
What makes good Christmas music?
Bells, brass, a wintery drone….and the singing of a street corner choir.
What's your favourite Christmas song?
I always get a bit excited and feel Christmassy when I hear L'Arlésienne and nearly always forget what it's called. It's a hell of a tune though. It's the one which goes….dum dum dum de dum de dum du duuuuu….yeah that one. Plus there are all the greats which, even though you REALLY want to hate them…kind of give you a secret feeling of warmth and joy. Like East 17.
What's your favourite Christmas film?
Angie: The Muppet Christmas Carol ….obviously.
Gabe: Home Alone
Ed: Die Hard
What are your Christmas traditions?
Enjoying the Doctor Who Christmas special with a huge glass of port and a turkey sandwich, wearing all my new socks.
What's the best gift you've ever given?
A box of 12 harmonicas, followed closely by a sellotape dispenser.
What would you like for Christmas this year?
A tour bus please. And love, eternal peace and a big bottle of port.
What do you think the meaning of Christmas is?
42 different kinds of cheese. And the stuff about love and peace (and port) again.
What's your top Christmas tip?
Sprinkle fresh rosemary over the tatties as you put them in the oven to roast.
---
Patch & the Giant's version of 'God Rest Ye Merry Gentlemen' appears on our festive compilation album For Folk's Sake It's Christmas 2013 alongside songs from Dark Dark Dark, Alessi's Ark, Laish, Stornoway, Joe Innes, The Pollyanna Band, Jessie Moncrieff, Emperor Yes, Worry Dolls, Sophie Jamieson, Left With Pictures, Inti Rowland and Howard Carter.
You can buy For Folk's Sake It's Christmas 2013 on CD & MP3 from forfolkssake.bandcamp.com. All proceeds go to Médecins Sans Frontières.