Nicki Bluhm is no stranger to touring life, having completed an epic, 200-date, US tour as part of Nicki Bluhm and the Gramblers in 2013. This October saw the San Francisco 6-piece shrunk to three for their first ever European tour, taking the fresh, country-blues sound of their recent eponymous record to such illustrious locations as Paris, London and Berlin. We managed to catch Nicki for a quick chat to find out how working with her husband and best friends affects her music, and that all important question…
…what's a Grambler?
It's a word our friend Greg Loiacono (guitar/vocals in Mother Hips) made up years ago. It was a way of describing some folks on the scene I suppose…kind of a rambling, gambling, roll-with-the-punches kinda vibe. It can really mean whatever you want it to mean though!
Nicki Bluhm and the Gramblers is very much a family affair, with your husband Tim arranging and producing, and each of the band members helping to write songs. How does this closeness affect the music? Is it ever difficult to work like this?
We definitely have a family vibe going on in the band.  We all care for and respect each other very much…we're grateful to have each other. Tim and I face challenges being married and also in an intense working relationship but ultimately it lends to understanding each other better. The lifestyle is very demanding and sometimes grueling, which can be hard on any relationship, but the music is our release. That's the best part of touring…playing the music…it's the reward for all the other BS you have to deal with.
Can you talk us through the new record?
There are multiple songwriters in the band; Tim, myself, Deren and Dave all contributed songs to this album as well as our good friends Steve Poltz and Scott Law. The collection of songs meanders between genres of soul, rock, country and folk but there is a commonality they all share.  We love singing harmonies so there is a lot of that…we love the California harmonies of bands like The Byrds and The Eagles.
Which is your favourite song to perform?
I really love singing Tim's song 'Little Too Late'.  It's a fun story to tell and I love interpreting other peoples tunes.  It's also a great feeling when people in the audience are singing along with you and that happens almost every time we play it. It's a good one.
Do you prefer to do music as part of a group? What does it add to the experience?
I love singing with a band.  When I first started performing I did it alone and that lasted about five gigs.   am much more comfortable playing with a band and I really love feeding off the energy of my band mates and what they're doing.  It's like a living organism.  That said, I prefer to write alone…at least at the beginning stages of a song.  It can be a very tender time so I like wood shedding alone until I've got something I think is good enough to share.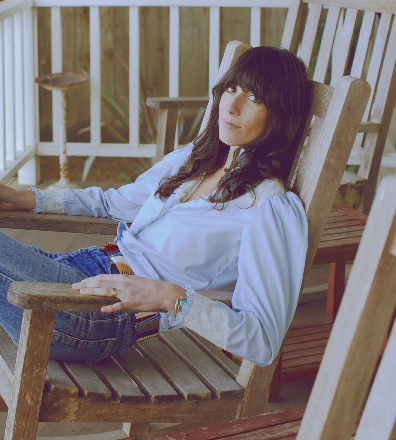 How did you get into music in the first place?
My older brother played guitar and sang so that was really my first introduction into playing music. He and my dad got me my first guitar when I was 17 and when I learned to sing and play it felt like magic.  I couldn't believe it, I was very entertained by myself.  It wasn't until about 10 years later that I played in front of a crowd. It never even crossed my mind to until I met Tim.
You're touring here in the UK at the moment. Do you notice differences between American and British audiences?
Our show in London was fantastic. The audience was very attentive and polite. There are times you get a crowd like that in The States but you have to earn it. This was our first show in London and they were incredibly respectful to us and to the music right off the bat.
The album's being received really well – what are your plans for the future?
Writing more songs for the next album!  We've got a ton of tour dates for 2014 already up and recording dates on the books for the next album.  It's full steam ahead!