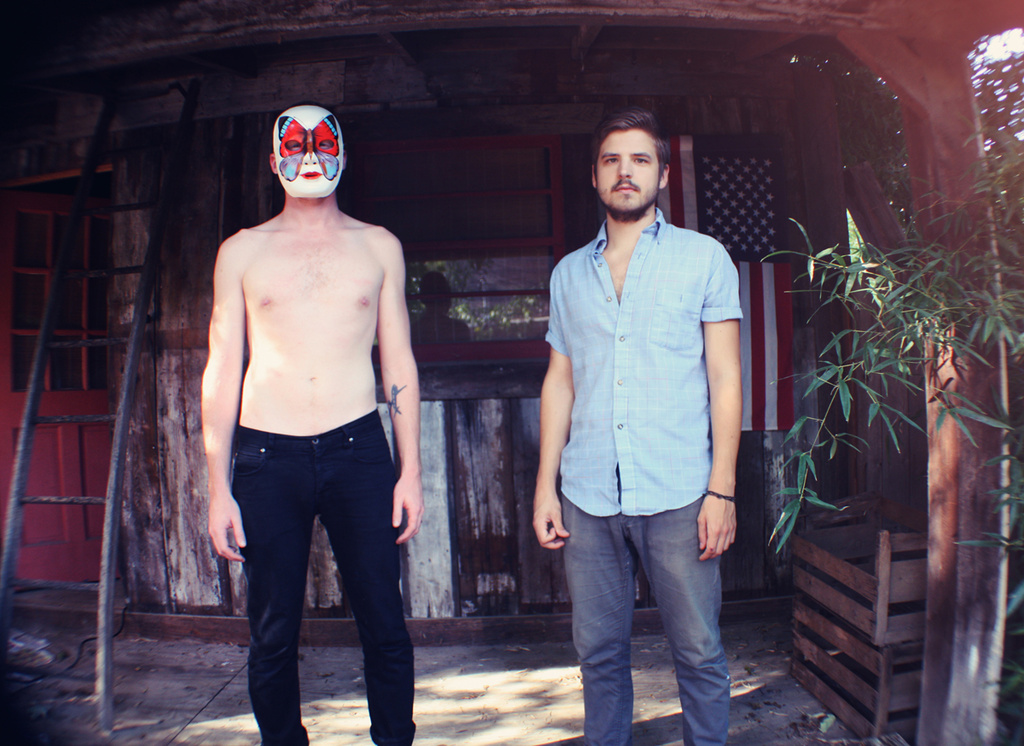 FFS: Hello, please introduce yourself and your music to the uninitiated
Brian: We are Foreign Fields. A duo from Wisconsin who decided to represent a year of their lives in the form of an album. We tend to blend the musical genres that inspire us most, folk, classical, and electronic. We now play out as a group of 5 guys trying to achieve the most emotionally true performance that we can.
Tell us a bit about Anywhere But Where I Am… 
ABWIA was an album crafted with no intention or master plan. We planted the seed for this album while living our lives in the city of Chicago, yearning for greener pastures, more space, simpler lives. We began fulfilling that desire in our home state of Wisconsin where we started recording the album and completed our transition with a move to a new house and life in Nashville, TN. We spent a year writing and recording every note of this album together and released it early this year with no expectations of success.
What has been your best ever gig or tour?
Well up to now we've only been on one tour. This past summer we were fortunate to spend a month on the road opening for the Counting Crows. A truly amazing and eye-opening experience. Beyond that tour I think coming home to Nashville and playing a sold-out show at one of our favorite local venues, The Basement, provided us with one our favorite single gig experiences yet.
What are the best and worst things about being a musician?
The funny thing about being a musician is that it's the best thing and the absolute worst all at the same time. The creative stress you put yourself through, the long hours of dedication with only a faint hope attached to it, the constant possibility of failure are all difficult to grapple with. On the flip side, you have the pure unfettered joy of loving what you create and the immense satisfaction of knowing others are affected by something that came only from you. The drug of the stage is very difficult to walk away from.
What are your five favourite albums?
Eric's list –
1. Bjork – Vespertine
2. Radiohead – Kid A
3. Flying Lotus – Cosmogramma
4. Cliff Martinez – Solaris (soundtrack)
5. Coldplay – Parachutes
Brian's favorite albums of the moment:
1. Helios – Caesura
2. Patrick Watson – Adventures in Your Own Backyard
3. Bon Iver – Bon Iver
4. Jessie Baylin – Little Spark
5. Nick Drake – Five Leaves Left
What inspires you?
So many things. Although most of our songs are purely biographical, we can't help but be inspired by the films we watch, the books we read, and the music we listen to. What truly inspires us most though is our natural surroundings and the spaces we find ourselves in. This was our biggest inspiration for the album.
If you won a billion pounds what would you do with it?
I'd first buy a large plot of land at the foot of some mountain range in the western part of the US and plant my wife an orchard there. Then I'd take an extended trip to Japan. And after all that, would go right back to living the life I am now, playing in a band, making music. I'd probably spend less time in a pizza kitchen. I feel like Brian's plan would be similar except instead of less time in a kitchen he'd spend less time in front of a computer.
Which of your songs is your favourite?
It changes constantly but right now I think we both have a certain fondness for "The River Kings"
What's your plans for the band after this record?
Right now our plans include playing out a lot. Both here in Nashville and on the road later on this fall. In October we'll be heading up to New York for CMJ which we're super excited about. I think we'd all be happy if we spent much of this next year performing our music anywhere we can go and beginning to write for the next record.
Finally, we're always looking to expand our musical horizons. Do you have any recommendations of bands or artists we should be looking out for?
As far as newer artists, we've really been enjoying the recent album by Nashville's own Canon Blue and are looking forward to the debut album by our friends from Wisconsin, Field Report.