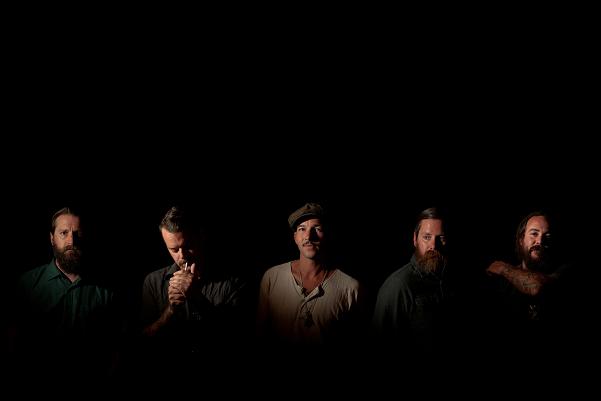 Formed in 2006 by long term friends Nathan 'Nato' Bardeen (vocals, keyboard, guitar, mandolin), James Smith (guitar, vocals) and Rory Dolan (drums), the original 'Drowning Dudes' – as they call themselves – were soon joined by Todd Eisenkerch (bass, vocals) and Gabriel Messer (keyboards, vocals). Now one EP and two LPs up – their recent album, All Of The Unknown was released on Borstal Beat records – we thought it was time to get the schizzle on this folk-rock-roots act literally over-flowing with energy and good vibes.
FFS: Hello, please introduce yourself and your music to the uninitiated.
The Drowning Men: Gabe here from the piano world in the group The Drowning Dudes
Tell us a bit about your latest release?
It's a fun-filled carnival-ride roller-coaster of emotions and experiences from our frontman Nato
What was your best ever gig?
Actually last night in Zurich. Beautiful people! Well, actually Munich was my personal favourite. It was at Ruby Bar and my favourite German, Simon, had stripped us down to two acoustic guitars, one floor tom and a snare, and my keys and Todd's bass coming out of a small combo turned pretty much all the way down. No microphones needed to get our point across the dimly lit living room-style stage, Nato belted out our tunes and even a couple covers of his favourite inspiring musicians. We had two couches, a small table with an ashtray and a bottle of whiskey and a case of beer and our outdoor German bar-living room became the stage. Magical
What's the worst thing about being a musician?
Love.
What inspires you?
All kinds of things from the stars at night to the sound of a waterfall crashing. Nature. People. Smiles. What that means is, I personally have a musical mind (meaning, there's constant tunes running through my head at all times; read the psychology of music If you get a chance) and anything and everything inspires what my fingers and mind will produce next.
If you won a billion pounds what would you do with it?
Fuckin' party! Take all my babes and buds out. Then go straight to the studio and write a movie score. Then start an organization against the nuclear industry.
Which of your songs is your favourite and why?
'A Fools Campaign'. Because Nato's wife sang on the track. Beautiful voice she's got. And she recorded it from a studio in Australia after we sent her the track from California. I think it's cool in that way
What are your plans for the future?
To stay humble musicians. Keep writing songs. High five some big timers n' shit
Finally, we're always looking to expand our musical horizons. Do you have any recommendations of bands or artists we should be looking out for?
Two words. Leather Werewolf
'Smile' EP is released on the 4th November and you can catch the boys supporting The Airborne Toxic Event on the following dates:
1st October – Birmingham Academy 2
2nd October – Manchester – Academy 2
3rd October – Leeds – Cockpit
6th October – Glasgow – The Garage
7th October – London – Shepherds Bush Empire