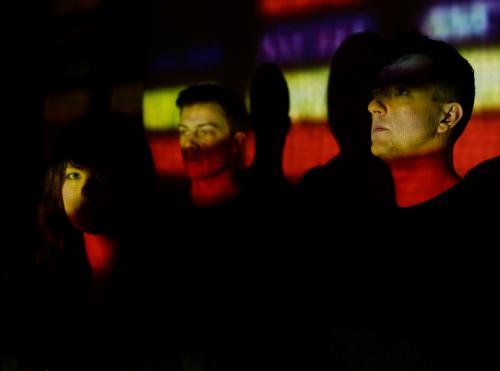 Somehow, Laki Mera's rapturously-received debut album, The Proximity Effect, flew under our folktronica radar. Determined not to miss the party the second time, we collared the Glasgow three-piece to get the lowdown on 2013's most intriguing dream folk outfit and find out more about New Favourite Album Turn All Memory To White Noise. 
Hello, please introduce yourself and your music to the uninitiated.
Hi, I'm Keir and I play keyboards for Laki Mera. Our music is best described as electronica – it blends songs with electronic instrumentals and acoustic sound, sometimes with a hint of pop! Performance wise, it's unlike a lot of electronic acts as we try to play everything live and avoid a reliance on backing tracks. 
Tell us a bit about your latest release?
We started work on the album [Turn All Memory To White Noise] in late 2011/early 2012 with demo versions of songs and pretty much dedicated all our free time to recording and mixing during last year. This release is a positive progression from our last album in terms of musical direction and production, and we finally got the chance to record strings properly in a few tunes and even some brass. It also was the last album with our long time drummer and friend Tim who left the band late last year but it's definitely our best release so far!
What was your best ever gig?
Probably the one we played just last week which launched our new album, I think we were all at our best then…There have been other belters though, The Arches gig for Celtic Connections this year was good and T in The Park last year was also great.  
What's the worst thing about being a musician?
All the fame? Just kidding, I don't think there's much that I would complain about. 
What inspires you?
Any art with integrity, many other musicians, quirks in life.
 If you won a billion pounds what would you do with it?
Buy a splitter van, fund a new studio, donate the rest. 
Which of your songs is your favourite and why?
My current favourite is 'All I Have'. It seems to get the crowd going and has a nicely anthemic feel to it!
What are you plans for the future?
We would like to dedicate more time to making new music together in our studio in Glasgow and hopefully do some bigger gigs soon.
Finally, we're always looking to expand our musical horizons. Do you have any recommendations of bands or artists we should be looking out for?
Look out for Giant Fang, Casual Sex, Prides and The Treacherous Orchestra, all from Glasgow!
 Find out more about Laki Mera here